Donald Trump takes on another woman, calls Elizabeth Warren 'goofy'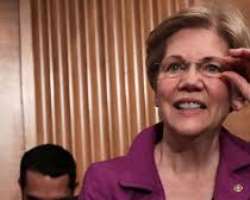 Sen. Elizabeth Warren unleashed a torrent of insults against Donald Trump on Friday night after he called her "goofy" and resurrected a controversy over her claim to Native American ancestry.
The Massachusetts Democrat has been a longtime critic of the businessman — saying that he has built a campaign on racism, sexism, and xenophobia.
On Tuesday night, after the Indiana primary turned Trump into the presumptive Republican presidential nominee, Warren vowed to fight so that, as she put it, his "toxic stew of hatred & insecurity never reaches the White House." In a series of comments on Twitter , she accused Trump of inciting violence, disrespecting veterans, and having more supporters in the Ku Klux Klan than in his own party.
"What happens next will test the character for all of us — Republican, Democrat, and Independent," she wrote. "It will determine whether we move forward as one nation or splinter at the hands of one man's narcissism and divisiveness."
Trump responded to Warren's condemnation on Friday night on social media , saying he hoped that the likely Democratic presidential candidate, Hillary Clinton, chooses her as a running mate and adding that he would beat them.
He also unveiled a nickname for her, "Goofy Elizabeth Warren," and brought up the well-rehearsed controversy over her Native American ancestry, which was raised during her successful 2012 Senate race against then-Republican Sen. Scott Brown.
Sen. Elizabeth Warren, left, ranking member Sen. Claire McCaskill, D-Miss., and Committee Chairman Susan Collins, R-Maine, at a hearing of the U.S. Senate Special Committee on Aging on April 27. (Photo: Jonathan Ernst/Reuters)
"Let's properly check goofy Elizabeth Warren's records to see if she is Native American. I say she's a fraud!" Trump said. "Goofy Elizabeth Warren, Hillary Clinton's flunky, has a career that is totally based on a lie. She is not Native American."
In response, Warren pointed out that she attacked Trump on Tuesday and that 45 million people saw her tweets, but that, despite his supposed self-confidence, it took him until Friday to respond. She said that "birthers" lost their credibility when they questioned President Obama's citizenship, and that American voters would not fall for allegations about her heritage. Warren has defended herself at great length on this issue elsewhere.
"If you think recycling Scott Brown's hate-filled attacks on my family is going to shut me up, @realDonaldTrump, think again buddy. Weak," she wrote.
According to Warren, Trump is a bully whose only "play in his playbook" is to hurl offensive lies at anyone who calls him out, and that he does this because he cannot honestly discuss his "dangerous vision for America."
"But here's the thing. You can beat a bully — not by tucking tail and running, but by holding your ground," she said.
Trump suggested that Warren's Twitter rant showed that it is easy to push her buttons and that he was "driving her nuts."
"Goofy Elizabeth Warren is weak and ineffective. Does nothing. All talk, no action — maybe her Native American name?" he said.
Friday night's tweet storm is just the latest in an escalating Trump-Warren feud. Last month, during a press conference in Washington, D.C., Trump was asked about a lengthy attack from Warren on social media, in which she called him a "loser" and a business failure.
"Who's that?" Trump replied. "The Indian? You mean the Indian?"