Kenneth 'Andy' Okonkwo's second wife gives birth 9 years after marriage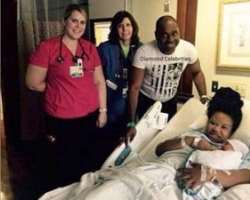 Renowned Nollywood actor, Kenneth Okonkwo ,  has welcomed his second son after nine years of his second marriage.
Okonkwo, popularly known as 'Andy', after the name of the character he played in the epoch-making Igbo film, Living in Bondage, remarried about 9 years ago to Ifeoma, after his marriage to Ogechi, daughter of the Senior Pastor of Christian Pentecostal Ministry, Ezekiel, crashed.
Keneth and Ifeoma welcomed their first child together at the University of Maryland, St. Joseph Medical Centre in the United States of America.
According to reports, the baby arrived on Saturday, May 7, 2016 bringing about so much joy for the couple.
Speaking with the Diamond Celebrities, Okonkwo said, "God is a faithful God. He said we shall be fruitful and multiply, that there shall be none barren in our midst and He just fulfilled His words. To Him be all the glory in Jesus name."
 Okonkwo had a child with Ogechi.