Fayose berates EFCC over invasion of Fani Kayode's residence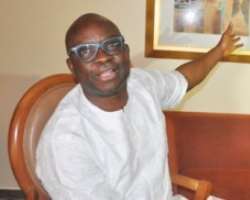 Governor Ayodele Fayose of Ekiti State, on Saturday, vented his anger on the Economic and Financial Crimes Commission over what he described as their persistent harassment of Nigerians.
According to the governor,  the continued detention without trial of Mr. Warimopei Dudafa, a former Special Assistant on Domestic Affairs to ex-President Goodluck Jonathan and invasion of the Abuja residence of former Minister of Aviation, Chief Femi Fani-Kayode were irresponsible, barbaric and undemocratic actions.
Governor Fayose described the actions as heights of executive rascality for the EFCC to have held occupants of Fani-Kayode's residence hostage for eight hours despite that he was only invited to come to the EFCC office on Monday and there was no evidence that Fani-Kayode refused to honour the EFCC invitation.
His displeasure was made known to the media through the governor's Special Assistant on Public Communications and New Media, Lere Olayinka.
In his words: "EFCC under President Mohammadu Buhari is acting as if it is above the law and Nigerians and the international community must remind the commission that we are in a democracy where rule of law is sacrosanct."
The governor said actions of the EFCC have shown clearly that it is an instrument of victimisation against oppositions in the country, adding that the anti-graft agency should go and study how other anti-corruption agencies in other countries behave.
He said; "the EFCC must be reminded of the judgement delivered in March, this year by Justice Yusuf Haliru of the Federal High Court in Nicholas Arinse Vs EFCC & Nigerian Army where the judge held that the EFCC did not behave as if we were in a civilised society and that the anti-graft commission was behaving as if we were in a military dictatorship, where they arrest and release person at will.
"In the case of the former Special Assistant on Domestic Affairs to ex-President Jonathan, no one is saying those suspected of corrupt practices should not be investigated and tried, but it is wrong for Warimopei Dudafa to have been kept in EFCC custody for over two weeks without trial.
"Also, it is a demonstration of barbarism for the same EFCC that invited Fani-Kayode to its office on Monday to have invaded his house yesterday, holding the occupants hostage for eight hours when there is no evidence that Fani-Kayode refused to honour EFCC invitation. "Why the show of barbarism by the EFCC as if Nigeria is now back to 1984 when Buhari was a military dictator?" While calling on the international community to pay attention to the abuse of rights of Nigerians and threat to democracy under President Buhari, Fayose said;
"It is obvious that democracy in Nigeria is becoming unsafe in the hands of Buhari's government." He said Nigerians must begin to ask the EFCC what happened to the several petitions written against APC leaders and financiers of President Buhari's election, including former governors, adding that it was worrisome that the EFCC and the Department of State Services (DSS) have become President Buhari's instrument of political victimisation."
-Emmanuel Ikechukwu