Poor Power Supply Destroys Uche Jombo's Electrical Appliances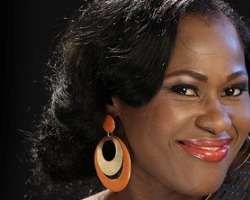 Nollywood actress, Uche Jombo-Rodriquez, is back with slamming the poor power supply being experienced in the country.
The actress stated that it has not been easy even shooting a movie in the country due to lack of power supply and the noise of generating set.
She explained that even when the power supply is restored, it tends to demage some electrical appliances in the home.
"You have weeks without electricity and the day they decide to give you small, they destroy half of your electrical appliances. Film making is hard enough. Film making in Nigeria is next level 'hard'. Respect to the hard working ones out there doing it. Imagine enabling environment to work. Film (without gen sound) and edit (without paying too much for fuel/diesel) Respect to Nigerian filmmakers. Put some respek in that working film maker's NAME. Couldn't believe what i got home to last night," she said.