Re: "N2.5b 'Fraud': Udenwa, Fani-Kayode In Trouble" A Publication Libelous Of Chief Femi-Fani Kayode At Pages 1 & 6 Of The Nation Of May 5, 2016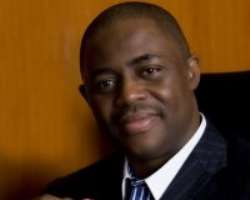 May 5, 2016
The Editor-In-Chief
The Nation Newspaper
Plot 5, Nanka Close
AMAC commercial complex
Wuse Zone 3
Abuja.
Re: "N2.5b 'Fraud': Udenwa, Fani-Kayode In Trouble" A Publication Libelous Of Chief Femi-Fani Kayode At Pages 1 & 6 Of The Nation Of May 5, 2016
We are Solicitors to Chief Femi-Fani Kayode (hereinafter described as our Client) and we firmly write this letter to you,on his behalf.
Our Client has referred us to your publication of Monday 5th May, 2016. In the said publication, you wrote through your correspondent Yusuf Alli as follows: N2.5b 'fraud': Udenwa, Fani-Kayode in trouble". On Pages 1 and 6 of the said publication, you further published as follows:
"As of last night, Udenwa was still being detained at the Lagos State office of the anti-graft agency, which has launched a manhunt for a former Minister of Aviation, Chief Femi-Fani Kayode. Of the six people implicated in the scandal, only a former Minister of Finance, Mrs. Nenadi Usman, has been grilled by detectives. The details of how the case was disbursed are: Fani-Kayode (N840 million); Goodluck Support (320 million); Achike Undewa and Viola Onwuliri (N350 million); Nenadi Usman (140 million); Olu Falae (100 m) and Okey Ezenwa (100 million)….A source in EFCC said: As part of the ongoing probe of the N2.5 billion illegally collectedfrom the CBN for campaign purpose, our operatives have arrested a former Governor of Imo State, Achike Udenwa. He was picked up in Enugu but now detained in Lagos for grilling. He is expected to explain how he came about N350 million with a former Minister of Foreign Affairs, Prof. Viola Onwuliri. Besides getting the list of beneficiaries of the N350 million, we are interested in how he will refund the case , which is illegally taken from the CBN.
The EFCC has launched a manhunt for a former Aviation Minister Mr. Femi Fani-Kayode who has "refused to report to the agency for interaction. All attempts by our operatives to locate the whereabouts of Mr. Fani-Kayode have failed because he has not only switched off his phones, he has virtually gone underground, the source said, adding: we will fish him out wherever he is. Having been watchlisted by the EFCC, he cannot hide for long. Fani-Kayode is rated as the chief beneficiary of the disbursement of the slush funds as he allegedly received N840 million, paid in three tranches into his Zenith Bank, Maitama brach account with No. 10047735721. The EFCC source gave the details of the transactions from Mrs. Usman company's accounts to Fani-Kayode and others. The source said: The first tranche of payment involving N350 million hit the account on February 19, 2015. Another N250 million was also paid into the account on February 19, 2015 while N240million was similarly credited to the account a month later; precisely March 19, 2015. The balance on this account as 31st December, 2015 was N189,402.72"
Let it be known to you that by reason of the above afore highlighted spurious claims, you have condescended to engage in a media trial, contrary to your statutory obligations and professional ethos. It will also interest you to know that the EFCC has not at any time invited our Client, whether for a civil chat or to volunteer information on any perceived queries.
Our Client is not in hiding, neither are his phones switched off nor has he gone underground. Much more important is the fact that the allegations are untrue, denigrating, fictitious and were made in bad faith. To suggest via print media that our Client has refused to report, gone underground or is in hiding; and that you willfish him out, is to say the least, most despicable and scandalous of our Client.
We take the liberty of this moment to sensitise you of the far reaching legal implications of your unguided presumptions, comments, opinions and politically induced remarks about our Client. The imperative to write this letter is also shrouded in the fact that necessary legal machineries will be activated against you, in the event that you do not desist from taking other steps or actions calculated to further embarrass our Client.
In the meantime, you are hereby advised to retract the saidcomments made about our Client and tender an unreserved apology to him through the same medium and any other widely read/circulated media outfit. Our Client reserves legal protection by operation of law and we will be left with no preferred alternative than to enforce or seek such remedies against you and Yusuf Alli, if you fail to so do within 7days. You are also advised to enter into negotiation for damages.
We anticipate your cooperation.
Yours faithfully,
Adeola Adedipe, Esq.
Ahmed Raji & Co.