Why Yoruba Actresses Would Always Fight Over Actor Odunlade Adekola (Photos)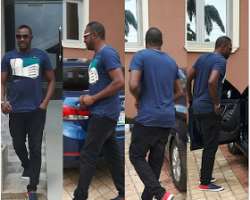 Popular Nigerian 'Fineboy' Yoruba Nollywood actor, Odunlade Adekola is one star that always leave ladies heart beating with romantic wishes running through their minds.
Although married with adorable kids, Odunlade's firm body structure and simple way of life has attracted lots of the opposite sex within the Yoruba sector of Nigerian movies.
The proud father of four recently shared more photos of himself on Instagram and captioned. it;
#I give all thanks to GOD# IWO NKO? lol?'
Now, you see why women will keep falling for him, wishing they could step into his wife's shoes.