$40m Fraud: Jonathan's cousin wants court to order his release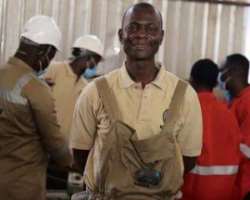 The detained cousin of former President Goodluck Jonathan, Robert Azibaola, has asked a Federal High Court in Lagos to order the Economic and Financial Crimes Commission (EFCC) to either charge him to court or release him from detention.
Azibaola, in a new case filed on his behalf by his counsel, Ebun-Olu Adegboruwa, claimed that his detention, which has lasted for 46 days by the EFCC, was as a result of his refusal to indict the former President.
He is specifically urging the court to order the EFCC to release him immediately from unlawful custody or institute a criminal charge and arraign him before any court of competent jurisdiction.
Azibaola was arrested by the EFCC on March 23 over an alleged diversion of $40 million dollars through a company, One-Plus Holdings, and a sister company, Kakatar Construction Limited.
The payment was said to have been made by the detained former National Security Adviser, Col. Sambo Dasuki (rtd).
The EFCC on April 22, 2016 transferred him from Abuja to Lagos where it obtained a warrant from a Lagos State Magistrate's Court in Ikeja to remand him pending the conclusion of investigation into his alleged crime.
However, in the suit, which is yet to be assigned to any judge, Adegboruwa claimed that the EFCC could not rely on sections 293 and 294 of the ACJA to continue to detain his client.
He argued that those sections of the law were designed for criminal offences such as murder, armed robbery, kidnapping and treasonable felony, which attracts capital punishment, for which the police would need time to await a legal advice from the office of the Attorney-General.
Azibaola, who claimed that he is being persecuted based on his blood relationship with former President Jonathan, also accused the EFCC of having perfected the plan to keep transferring him from state to state in order to keep renewing the remand warrant to ensure that he was perpetually kept in detention.
He also claimed that any attempt to make him indict former President Jonathan was a violation of Section 7 of the Administration of Criminal Justice Act, "which has outlawed the practice of arresting a citizen as ransom for the alleged offence of another citizen.
No date has been fixed for the hearing of the fundamental rights enforcement suit.
Channel Tv