17 year old boy kills mum for rituals…see his ridiculous reasons!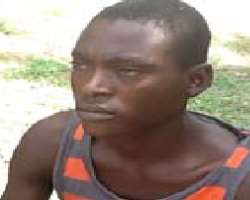 How can a child kill his mother who carried him in her womb for nine months and went through the labor pain to have him.

She went through sleepless night to nurse him, till he became of age, yet he had the nerves to call her a witch.

Without thinking twice, this young boy, Agayo Lorzenda from Kastina, acted rashly after consulting an oracle and was told his mother used his manhood for witchcraft.
After narrating the outcome of his research to his friend, he was advised to kill the mom and use her blood for money rituals and also restore his manhood.
Afterwards, he heeded and shot the mother with a local made gun. After his evil deed, none of his intentions came to pass. He never had money nor was his manhood returned.
He is currently in the custody of the policemen at Benue state police command and would soon be made to face the law.