TUC Chairman Lauds Mrs. Obiano for Giving Shelter to Widows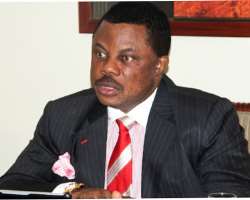 The innovative programme of the wife of the Governor of Anambra State, Chief (Mrs.) Ebelechukwu Obiano who is providing shelter for indigent widows in select communities in Anambra State has continued to attract commendations from stakeholders across the state with the latest coming from the Chairman of Trade Union Congress(TUC) Anambra Council, Comrade Ifeanyi Okechukwu. Comrade Okechukwu praised the initiative of the governor's wife Sunday, during the 2016 May Day celebration at Ekwueme Square, Awka, Anambra State.
The Chairman of TUC Anambra Council, whilst applauding the commitment and passion of the Governor of Anambra State, Chief Willie Obiano for good governance and for being a "Labour friendly Governor," eulogized the governor's wife for the initiative of her NGO, Caring Family Enhancement Initiative (CAFÉ).
Said the TUC chairman; "we appreciate the epitome of beauty and excellence, the 1st Lady of Ndi Anambra who has contributed immensely to the wonderful work our God-sent Governor is doing. Her Excellency, Chief (Mrs) Ebelechukwu Obiano, congress says, "Osodieme dalu" for giving shelter to 12 widows who are hopeless and helpless with their lives."
Under CAFÉ Housing Scheme, 2-Bedroom bungalows are being constructed and donated free to indigent widows across Anambra state who are deemed helpless and unable to fend for themselves or build a house of their own.
Beneficiaries under phase one of CAFÉ Housing for indigent widows include; Mrs. Chidili Igboamalu at Isioye Village Umunya, Oyi Local Government Area. Mrs. Nneuwa Nwajideofor at Enugwu Otu Aguleri in Anambra East Local Government Area; Mrs. Maureen Ekesiobi in Ogbunike, Oyi Local Government Area, Mrs. Chinyeaka Okeke in Amichi, Nnewi South, Mrs. Margaret Anoyou of Amorka, Ihiala Local Government Area. Others are Mrs. Helen Okafor of Amatutu Village in Agulu Anaocha Local Government Area, Mrs. Rebecca Ekezie Okebunoye Village Alor, Nnewi South, as well as Mrs. Catherine Ibekwe of Obeagu village Nri in Anaocha Local Government Area respectively.
The second phase of the CAFÉ Housing programmes is currently underway across Anambra communities where a process is going on to identify and select the next batch of beneficiaries