Workers' Day: Osanebi Hails Workers, Harpes On Diligence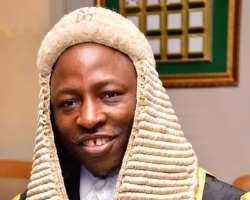 As the world celebrate international workers day today, the Deputy Speaker, Delta State House of Assembly, Rt. Hon Friday Ossai Osanebi, has wished workers in Delta State Civil Service a happy 'Workers Day,' calling on them to take advantage of the celebration to show total commitment and loyalty to their work ethics.
Rt. Hon. Osanebi, who harped on diligence and commitment to work as a panacea to outstanding reward and success also congratulated his immediate staff and that of the state legislature and urged them all to be dedicated to their duties.
Saying that the state government is always committed to the welfare of her workers, he further added that the place of diligence and commitment to labor is very crucial in the overall deliverance of the prosperity agenda to all Deltans.
"Governor Okowa is a very disciplined leader and would not want to waste the resources of the state. We quite understand that the state has signed in for prosperity; but prosperity will only come to diligent and hard working Deltans". He said.
Osanebi noted that since the advent of the Okowa administration, actions and policies have been geared towards placing Delta State on the path of sustainable progress, where everyone can better achieve his or her dreams. "That is the thrust of the SMART Agenda", He said.
Osanebi further added that the prosperity agenda of Governor Okowa is taking and implementing measures , in order to give Deltans a brighter future. "It is about creating jobs, creating wealth, empowering our people and ensuring a better deal for Deltans. This is an onerous task that requires the support of the Delta worker through diligence". He noted.
Expounding on the import of diligence and hard work to the overall success of the SMART agenda, Osanebi added: " Labour movement in our country has historically been a partner in national progress. I enjoin you to responsibly continue your hard work, resilience and commitment to the success of the SMART Agenda. We stand together in this prosperity undertaking and together in partnership, we will succeed in building a new Delta State".
Insuleto! Inafrica!!