Sarkodie Gets Stunning Gifts for His baby and Mother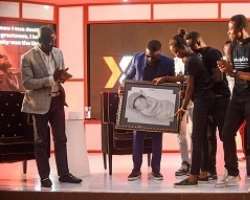 Sarkodie is enjoying the benefit of fatherhood. Since his girlfriend of many years Tracy welcomed a baby girl a month ago, he has been receiving gifts. The pair has been dating for over 10 years and in the new song, he admits he was nervous when Tracy got pregnant. Guess what he got this time.
When she was at the hospital about to give birth the midwife assured him it will be alright. He added, "I have always wanted and baby girl and the good God gave me one. This song is dedicated to my baby girl."
Sarkodie who shared stage with business mogul, Captain Rtd Prince Kofi Amoabeng as they inspired KNUST students with their exploits, their success story and more was presented with a portrait of his new-born baby Adalyne Owusu Addo aka Titi. Then he got another pencil portrait of his mother.
During his talk with the students, he said, "If you have an idea, it has to be positive. Have a dream and stay focus. You can have friends but your dream is your dream. Stop trying to impress people and focus on your dream."
He added, " I go through all the problems as all other artistes. Some complain about them but I don't complain because I love them."