Veteran actress, Mama Saje reveals reasons behind celebrities' marriage crash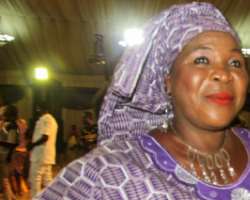 The height at which celebrities marriages are crashing is becoming alarming.
Fame and marriage seems not to be synchronizing with these celebrities, and their marriage suffers it all.
Despite the whole breakup saga's, there are celebrities that have kept their marriage private, from the prying eyes of the public and they have successfully kept their homes intact.
Yoruba veteran actress, mama Saje revealed the reason celebrities' marriages hit the rock is due to lack of contentment and impatient.
In her words: "Most of them want to belong, this is one of the reasons many marriages are crashing in the industry, and may God change their mind for better so as to have a stable marriage. My fellow colleague has done this and I must do my own at all cost, do you know where he/she got the money? As a result, they involve themselves in things they are not meant to do which will cause crisis in the union. Most married women stay in the marriage because of their children, not the husband because all men are the same. If you leave your children, it is as simple as you preparing them for sufferings because another wife will maltreat them."