MADUMERE SALUTES WORKERS ON MAY DAY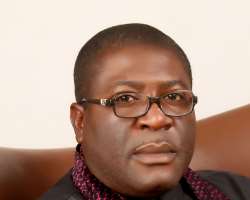 The Deputy Governor of Imo State, Prince Eze Madumere has joined Governor Okorocha and others all over the world to celebrate workers on 2016 workers Day celebration, describing them as the great agents of development.
Prince Madumere's statement was contained in a press release signed by his Special Assistant on Media, Uche Onwuchekwa.
Reflecting on the 2016 theme of May Day celebration, " Work Place Stress; A Collective Challenge", Prince Madumere said Governor Okorocha has demonstrated a great understanding of the human bio-mechanics and mental investments while at work by ensuring that working environment are conducive for Imo workers.
Commenting on the statistical data of International Labour Organisation on global occupational accidents, which is put at 270 million and 160 million deaths, which includes Nigeria, he expressed satisfaction that Imo Work force is different, which he attributed to God's grace.
He also described Owelle Rochas Okorocha led Rescue Mission Government as Labour friendly, which he said was the reason the Governor Okorocha was the first to pay minimum wage of N20,000 above N18,000 proposed benchmark.
Prince Madumere however reflected on the prevailing economic situation and its attendant effect on the workers and Nigerians at large. He therefore called for understanding of the workers, saying the present situation is a passing phase, which he believes will usher in a more sustainable articulated economy. He reiterated Governor Okorocha led government's resolve to create opportunities especially in agribusiness and industrialization to strengthen the economy of the State rather than depend solely on Federal allocation benchmarked on oil revenue.
He expressed happiness on the truce reached between the workers and the government on 70:30 % ratio to ensure that both the workers and the entire people of Imo State do not suffer under the present circumstance occasioned by the downturn in the economy.
He therefore commended Imo workers for their doggedness and inputs to ensuring that Imo State remains afloat while tasking them to do more by working smart and bringing to bear their established God given creativity and innovativeness.
Uche Onwuchekwa
Special Assistant to the Deputy Governor on Media