Hear What Don Jazzy Has Said after Tee Billz's Adultery Accusation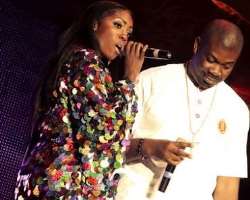 Don Jazzy who has been put in the way of Scandal by Tee Billz, when he accused the Don of Mavin of sleeping with his wife, Tiwa Savage has crawled out to speak. Interestingly, Donn Jazzy didn't talk about his dilemma in the scandal but is supporting his boy, Dr. Sid, who was also accused of cheating with the singer.
"My brother from another mother. The most misunderstood person I know. If only the world can know you like we know you," Don Jazzy said in the very sober post, adding, "But at the end of the day, all that matters is that God sees your kind heart."
Don Jazzy is always smart in responding to challenges like this. It looks as if Dr.Sid is really pained at this accusation. Remember, he is married unlike the Don, who has no wife to ask questions on the matter. Dr. Sid's wife Simi Esiri, has also shown support for her husband and making it open that she really love her man
"My love, my bestfriend, my husband and the father of my daughter," she wrote adding, "I want you to take time off taking care of everybody and let me love and pamper you like you do for me. Even if no one gets you, I get you and I gat you." She said.