OMO N'OBA N'EDO UKU Akpolokpolo Transits To Greater Glory: #Mai Commiserates With The Benin Royal Family, The Palace And The Benin Nation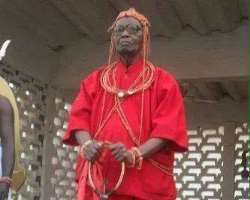 I have received with the greatest shock of my life but with total submission to the incontestible will of the Almighty God the transition to Greater Glory of the Omo n'Oba n'Edo Uku Akpolokpolo, Oba Erediauwa CFR, The Oba of Benin.
Your reign as the 38th Oba of Benin and the attendant peaceful co-existence between your subjects and our immediate and extended environment cannot be over-emphasized; the cultural renaissance, re-orientation and education therein was a mix of the old and new order; while sustaining the historical background and flavour of our tradition and custom, Your Royal Majesty, our very distinguished Palace Chiefs and the Benin nation, under your Kingship vigorously promoted a contemporary view of royalty.
Though I am pained at your demise at this critical time in the life of our dear State, when your wealth of wisdom would have been very instrumental as to building a sustainable bridge of peace, understanding and tolerance amongst us, I am however consoled by the fact that your good and humanitarian works before and during your reign will continue to be points of references and guiding principles in our dealings with us.
Your Royal Majesty gave us millions of reasons to believe in ourselves, promote our cherished culture and tradition, fight for our rights, love, protect, defend our land and territories; On behalf of my teeming supporters and my family, I wish to convey my deepest condolence to the Benin Royal family, the Palace and the entire Benin nation for the loss of the Omo n'Oba n'Edo Uku Akpolokpolo Oba Erediauwa CFR (The God-King).
May the Almighty God and our Ancestors continue to bless and protect the Benin nation, Edo land and Nigeria in general.
Oba gha t'okpere, ise.
Signed:
Hon. Matthew Aigbuhuenze Iduoriyekemwen
PDP Gubernatorial Aspirant
Edo State