If Bayern Munich lose, you can kill me: Guardiola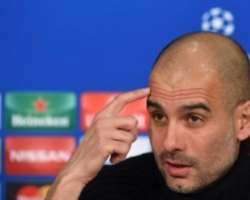 Bayern Munich coach Pep Guardiola has defended himself against the criticism he's received for his team's defeat to Atletico Madrid in their Champions League semi-final first leg, adamant he can still turn things around .
The Bavarians face Borussia Monchengladbach on Saturday with the opportunity to win the Bundesliga title, but all talk has been on Wednesday's loss to Diego Simeone's men.
"We have a game," said Guardiola to the press. "If I lose you can kill me, but I still have a chance."
The coach also went on to justify why Thomas Muller didn't start the match and how his tactics dictated his team selection.
"I love to play Muller," he added, "perhaps it would be better to play him, but I had to make a decision."
The former Barcelona boss believes that it is too premature to rule his side out, even though Atletico beat Barcelona in his final season at the Camp Nou.
"At the end I have to make a decision," Guardiola said, "but it has not finished yet and we are still in the game."
Originally published on Marca.com by Paul Wilkes