Ibinabo was Wicked on Actress Crystabel Goddy...Emeka Ike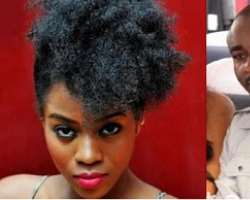 Recall the sad incident involving two Nollywood actresses, Crystabel Goddy and Princess Chineka, On Friday, 12 February, 2016, after the duo were engaged in a dirty fight on a movie location in Iyana Ipaja, while, the Emeka Ike Led faction of the Actors Guild of Nigeria (AGN) has come to her rescue.
It was leant that the duo had a little misunderstanding while on a movie set and that led to some scuffle which saw Crystabel biting off Princess thigh.
After the news went viral, the then Ibinabo Fiberesima led administration of the guild had to place Crystabel on suspension until the guild get to the root of the matter.
But with Emeka Ike coming on board as the new AGN president, he has decided to revisit the case where he pointed out that it was wrong for Crystabel to be placed on suspension because she was never a card carrying member of the guild.
In his words, "Even if Miss Crystabel Goddy, were a member of our Guild, there are set procedures for dealing with issues bothering on indiscipline. Miss Goddy never faced any disciplinary panel to hear her case to determine her guilt or otherwise.
"Her purported suspension by Ibinabo is akin to jungle justice, which is alien to Actors Guild of Nigeria. For the avoidance of doubt, Miss Crystabel Goddy is not under any suspension by Actors Guild of Nigeria, and therefore free to continue her career, as we rebuild our Guild to make it once more attractive to young talents."