Edible Catering Was the Lady Tee Billz Had a Fling With- Tiwa Savage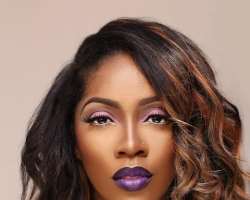 It has been a stressful week for two married black men; Jay Z and Tee Billz. Beyonce came out with lemonade while Tiwa Savage spoke about Edible Catering.These are songs that talked about how unfaithful their husbands were to them, yet they stood firm with these men, except Tee Billz who blew the whistle and got himself burnt after the alarming revelation from Tiwa last minute.
The table has turned against Tee Billz now that the truth has come out. He has been accused of cheating, trying to measure up with the jones when he has no money, stealing and borrowing to the extent that the EFCC may be trailing behind him.
Tiwa confirmed that the marriage ended some weeks back and admitted that her song 'Edible Catering' was all about Tee Billz cheating on her– a number she alleges he saved with that name on his phone. She said
'While we were sleeping, his phone was going off and it was middle of the night and I kept on seeing the name calling him 'Edible Catering' and It didn't make sense because why would a catering company be calling my husband at that time of the night and Yes as a woman, I picked up his phone and I went through his phone got into his Whatsapp and there's this long conversation with this same edible number.'

And I'm seeing stuffs like 'Can we meet at the hotel tonight', 'Do you live alone', 'And is it ok if I come by'. The last message I saw was, 'I had to leave at 7am today because you were still sleeping'. Then he responded saying, 'Yea because you knocked me out last night, It was a great night.'
We pray that the estrange couple get solace soon.