Checkout Ini Edo's Outfit to Abuja Tourism Summit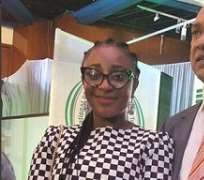 Nollywood actress, Ini Edo, is seriously busy with her political portfolio that she rarely has time for other things as she has been placed on a very tight schedule but that has not stopped her from using her applications to update about her activities.
The actress who was made Special Adviser on Tourism in Akwa Ibom state some months back was recently one of the guests at the National Tourism Summit, Abuja, and she has been representing her office well.
Sure as a celebrity holding such an important office, the actress will not want to fall her hand as she stepped out with various designs to soothe the occasion without exposing her body.