RMD Reveals Those Planning His Downfall (Photos)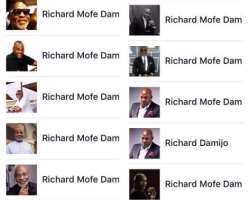 Iconic, Nollywood veteran, Richard Mofe Damijo is a bit worried that some fraudsters are at the verge of tarnishing his hard-earned name and image.
The former commissioner in Delta State shared a screen grab of multiple fake accounts on Facebook bearing his names and even his photos.
He warned all those who are friends with any of them to unfriend and report to the appropriate quarters.
He wrote: "I am aware that a lot of fraudsters have Facebook accounts set up with my name and image(s) and pretend to be me. I have on several occasions publicly stated that I Am Not On Facebook! I had an account I stopped operating in 2010. Please unfriend these fraudsters and help me bring down these fake profiles and accounts.
I only have a Twitter account @rmofedamijo and this IG account. The @rmdtheactor accounts on Twitter and IG are run by my Management and they are NOT on Facebook. Kindly tell everyone I said so. RMD Says So. RMD Is NOT on Facebook. Report The Fraudsters.''
The likes of Chigozie Atuanya, Yul Edochie, Mike Godson and lots more are also victims of such impostors on Facebook.