Mercy Aigbe-gentry Recounts Her Story On 'arrest' By Policemen In Oshogbo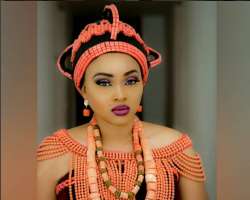 BEVERLY HILLS, April 29, (THEWILL) – Yesterday, news broke out that fashionable Nollywood actress Mercy Aigbe-Gentry had been arrested alongside her brother by Policemen at Olaiya junction, in Osun state.
Here's how Vanguard reports the story:
"Star Yoruba movie actress, Mercy Aigbe-Gentry, Wednesday had a bruise with some armed policemen in Osogbo when the vehicle she was traveling with was impounded by them.
It was gathered that while a minor misunderstanding between the actress and the policemen that impounded her vehicle appeared settled, and her seized vehicle particulars released, some armed policemen suddenly appeared and rearrested the actress and her driver.
Eyewitnesses told our correspondent that the actress who was travelling in gold-colour Honda end-of-discussion, was flagged down while driving towards Olaiya Junction in Osogbo. A source added that the vehicle was allegedly arrested because its driver was making call while others claimed police cap was put on the dash board of the vehicle which attracted the policemen.
Her presence immediately attracted large crowd at the ever-busy Orita-Olaiya, which nearly led to the policemen being mobbed. The visibly angry Aigbe-Gentry, was seeing making calls and had to be perceived before she agreed to leave the scene even as many of those gathered verbally attacked those that arrested her. However, when the artiste and her co-travellers were released, about five new armed policemen latter arrived the scene, and fired several shots into the air while the artist and others travelling with her were arrested and whisked away.
Reacting, ASP Egbedele, the assistant Police Public Relations Office, PPRO, Osun state Police command, explained that the matter was a minor traffic issue, adding that it has been settled."
According to GoldMyneTV , Mercy's publicist confirmed the incident adding that everything had been resolved and Mercy is fine.
The actress herself shared a photo on her Instagram page yesterday night revealing that she was back on set.
….And it's a wrap for today!….work continues tomorrow…..tired much!…#lifeofanactress. …Sweetdreams Fam!
A photo posted by Mercilicious (@mercyaigbegentry) on Apr 27, 2016 at 3:09pm PDT