Chris Ezekiel, The Most Corrupt Commissioner Of Police Under The Sun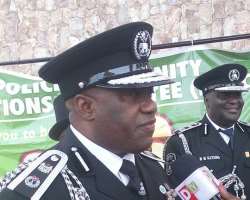 The Executive Director Of The Foundation For Good Governance and Social Change, Comrade Austin Osakue, has joined millions of progressives in the state to lambaste the business man cum commissioner of Police, Edo state Command over his exploitative act of milking the poor dry in the midst of poverty. He stated it while speaking to Reliance Newspaper reporter which was reported in the latest edition, April 24 to May 7, 2016.
According to Austin Osakue, "the police is a symbol of everything that is wrong with our system" He decried the commando manner of approach by which the police in Edo State specifically Anti Cultism and SARS units scare the people rather than convince the people that they are their friends.
He said what is worrisome is the manner the police now openly collects and extort money for bail. They raid all kinds of business centre especially where youths are in preponderance and they thereafter demand huge amount of money ranging from N50,000 to N500,000 for bail depending on the severity of the accusation. It is on record that we have been engaging the Commissioner of Police, to desist from his evil ways of milking the people or face the full wrath of the peoples' power.
The Inspector General of police, IGP Solomon Arase should listen to vox pop by redeploying Chris Ezeike now as the people cannot be continuously use as ATM machine in disguise of fighting cultism when some policemen in the exploitative units are allegedly members of secret cults..
It is often said that charity begins at home. He that must come to equity must come with clean hands. Chris Ezeike cannot come to equity when his hands are very dirty as to the monetisation of bail.
Plan for Mass protest against CP Chris Ezeike is almost concluded. Enough is enough. We say caboodle rejectamenta to oppression, injustice and man inhumanity to man.
Disclaimer:

"The views/contents expressed in this article are the sole responsibility of the author(s) and do not necessarily reflect those of The Nigerian Voice. The Nigerian Voice will not be responsible or liable for any inaccurate or incorrect statements contained in this article."