The greatest mistake Kwankwaso made in his life was bringing Ganduje to power, Kwankwaso's aide tells Ganduje.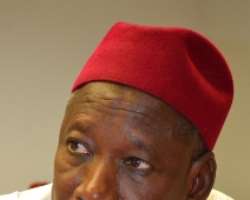 Alhaji Sharu Garba Gwammaja, a special adviser to former Kano State governor, Senator Rabi'u Musa Kwankwaso, said it will amount to political suicide for Governor Abdullahi Umar Ganduje to discard use of the red cap in protest against the political principles of Kwankwaso.
The red cap was made popular by Kwankwaso and came to be seen as the political symbol of his followers, known as members of the Kwankwasiyya group.
But in reaction to Gwammaja's call, the Kano State Commissioner of Information, Malam Garba Muhammad, said If you know the history of red cap, you will not react this way.
It is still a minus on your side even if it is only one person that removed his red cap in the state, in protest against the ideology. With the recent development, at least, people have choice to either wear red cap or not.
Gwammaja, while addressing a press conference to mark the 5th anniversary of red cap revolution in Kano, pledged to buy Ganduje's red cap at N1m if he voluntarily decided to discard it.
He said If Ganduje can remove his red cap today, I will buy it N1m. The greatest mistake Kwankwaso made in his life was bringing Ganduje to power.
The actions of the present government of Kano State have contradicted the ideology of Kwankwasiyya and we will continue to kick against anything that is contrary to our ideology.
He also accused Ganduje of rewarding some lawmakers in the state with cars, worth N686m, for discarding their red caps.
He said from the day the lawmakers stopped using the red cap, over one million people have started wearing red cap to show their support for Kwankwaso.
He alleged that all those that stopped wearing red cap in Kano could not go to their constituencies and interact with their people peacefully, because according to him kwankwaso is the one still kano people love so much talkless to present Governor Ganduje.
The red cap anniversary is being celebrated worldwide," he said.
Our members are celebrating it in Ghana, Saudi Arabia, Canada and Malabo, among other countries.
Gwammaja said the current political crisis between Kwankwaso and Ganduje will not end until the former embraced the political beliefs of Kwankwaso.
He pointed out that Kwankwasiyya was about transparency, accountability, justice, commitment to service to humanity, rendering selfless services, truthfulness and honesty.
On the issue of the alleged N686m cars gift to the lawmakers, the commissioner said This issue was purely an Assembly matter. There is a pending case in court between Gwammaja and state lawmakers, therefore, I will not comment on this.
Garba said that the governor had respect for Kwankwaso and would continue to respect him.