Maternity Matters: The Inaugural Global Midwifery Conference Abuja 'Every Birth Counts'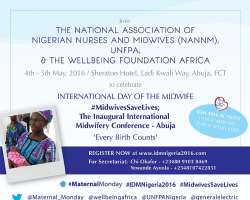 To mark the International Day of the Midwife, the National Association of Nigerian Nurses and Midwives (NANNM), UNFPA and the Wellbeing Foundation Africa (WBFA) – led by Her Excellency Mrs. Toyin Saraki – will be holding the Inaugural Global Midwifery Conference in Nigeria on the 4th and 5th May 2016, at The Sheraton Hotel, in Abuja, Nigeria.
Nigeria has one of the poorest indices of maternal, neonatal and child health in the world. According to UNICEF, Nigeria is the second largest contributor to the under-five and maternal mortality rates in the world. The chance of a woman dying during pregnancy in Nigeria is 1 in 13. If the situation in the country does not improve, and better access to healthcare professionals is not provided, it could mean dire socio-economic consequences for Nigeria.
This Conference will focus on learning, and providing a platform for medical professionals to update their skills and recognise best-practice by sharing ideas with each other. The conference will also include technical training sessions by UNFPA, GE Healthcare and the Liverpool School of Tropical Medicine (LSTM).
The following distinguished experts will be speaking at the conference:
Professor Isaac Adewole, Minister of Health, Nigeria

Francis Day-Stirk, President, President of the International Confederation of Midwives (ICM)

Madam Ratidzai Ndhlovu, UNFPA Resident Representative in Nigeria

Professor 'Gbenga Mokuolu, Department of Paediatrics & Child Health, University of Ilorin

Mrs Margaret Akinsola, First Vice-President of the National Association of Nigerian Nurses and Midwives (NANNM)

Dr Ginger Breedlove, President of the American College of Nurses and Midwives
Since its inception, the Wellbeing Foundation Africa (WBFA) has been dedicated to providing training and education to healthcare workers in Nigeria, with specific interest in midwives. In commitment to this conference, the WBFA will collaborate with its partners to provide over 210 midwives with evidence-based tools; which will help them develop and improve services to make them more efficient and effective in Nigeria.
"I hope the conference will give healthcare workers, academics and thought leaders the space and opportunity to discuss and develop tangible solutions to the maternal health challenges which Nigeria is currently facing," said HE Toyin Saraki, the Founder and President of Wellbeing Foundation Africa.