World Malaria Day: Cross River First Lady Distributes 20,000 Mosquito Net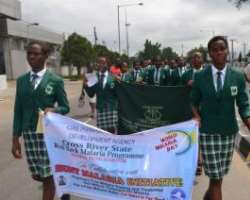 The wife of Cross River State Governor, Dr. (Mrs) Linda Ayade has put smiles on the faces of Cross Riverians as she distributed over 20, 000 treated mosquito net to pregnant women to mark 2016 World Malaria Day.
The first lady who started the celebration by leading a road walk from the Millennium park to Botanical Garden Calabar insisted that, she is always elated to be part of any event or process which impacts positively on the health of mothers and children.
She said that the day was important to her as it provide her Non-Profit Organization, Mediatrix Development Foundation (MDF) first hand opportunity to contribute to the health's of the vulnerable.
While reiterating her commitment to ensure the reduction of the disease burden of malaria and other mosquito-borne diseases in the state, she pledged to continue championing the war against malaria using a very unique strategy which employs the peer group club system of advocacy and sensitization of the public.
According to her, "A day like today affords me the opportunity of contributing and helping to facilitate a reduction of the disease burden of malaria and other mosquito-borne diseases. As you may already know, the main mission of my non-profit organization, the Mediatrix Development Foundation (MDF), is to improve the lives of people by reducing the burden of non-communicable diseases.
"Through the MDF Peer Group Club system, we have already established our presence in many Secondary Schools and in all the tertiary institutions in the state and we are advocating the use of mosquito treated nets among students".
The governor's wife added that as the State Malaria Ambassador, she was committed to a malaria-free Cross River State stressing that this was however only possible with a change of behaviour from the people.
"How clean are our surroundings? Are we keeping our backyards free from stagnant water and conditions that encourage the breeding of mosquitoes?
"One of the highlights of today's event will be the distribution of nets. This will leave us with one important question: Will we sleep inside the nets or will we rather use them in protecting our vegetable gardens from fowls? Would we set up the nets and put them to their intended use or will we rather keep them as souvenirs in our rooms?", she asked.
Earlier, the Director General , Cross River State Primary Health Care Development Agency and Senior Special Adviser on Primary Health to Governor Ben Ayade, Dr. Betta Edu said that the target of everybody especially those in the health sector should be the total annihilation of the disease.
Edu sais that, "Through keeping our environment clean, doing residual indoor and outdoor cleaning, sleep inside and not just under insecticide treated nets and pregnant women should be tested and if with the disease treated during antenatal."