Airtel Ghana Powers TEDx Accra To Bring Extraordinary Ted Experience To Ghanaians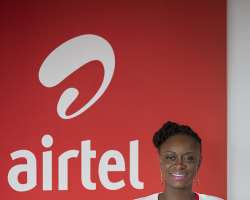 Airtel, Ghana's fastest growing telecommunications network and leader in data and digital innovation partnered TEDxAccra - the biggest gathering of thinkers and doers to share breakthrough ideas to inspire Ghanaians to rethink through a remarkable TED experience.
The independently organised event, affiliated to the world's most distinguished and celebrated platform for sharing ideas – TED – attracted thousands of Ghanaians to the National Theatre on Saturday 23rd April 2016.
Organised under the theme, Rethink, the event featured more than 30 accomplished speakers who challenged attendees to rethink innovation in Business, Education, Health, Lifestyle, Politics and Law.
Among the high profile speakers at the event was Airtel Ghana's Managing Director and CIMG marketing woman of the year, Lucy Quist, who shared a compelling story and deep insights into why Africans must all be generational thinkers.
Sharing her thoughts about TEDxAccra, Rosy Fynn, Airtel Ghana's Marketing Director said "This has been a truly remarkable event featuring very accomplished speakers sharing breakthrough insights and ideas and challenging all of us to rethink in all aspects of our lives. We are truly delighted to be associated with TEDxAccra.
As a company with a long-standing reputation for engineering breakthrough solutions and leading the telecom industry in data and digital innovation, it was only natural that we powered TEDxAccra to empower and create a platform for Ghanaians to learn, share and create possibilities together".
As headline sponsor, Airtel Ghana treated its Premier customers with free tickets to the event and enrolled some pupils and teachers from the Mataheko Cluster of Schools where the ChangeMaker company is piloting its Evolve with STEM initiative. More than 40 pupils from the cluster benefitted from the ideas and experiences shared at the event.
Speaking on the company's decision to sponsor the pupils to TEDxAccra, Richard Ahiagble, Head of Corporate Communications at Airtel said"
"The objective of the Evolve with STEM initiative is to inspire hope and transform the mindset of young people towards the study of Science, Technology, Engineering and Mathematics (STEM). STEM is empowering and instill problem solving skills in young people. We wanted to give the pupils from Mataheko a head start by exposing them to the insightful ideas shared on a platform such as this. It has been a great experience for all of them and we are confident that in a few years to come, they will be on bigger platforms sharing breakthrough ideas".
As part of the plan to extend the reach of the event, the Smartphone Network in collaboration with organisers of TEDxAccra activated a live-streaming center at Kumasi Hive powered by Airtel's unbeatable high speed internet to give patrons in Kumasi a delightful and immersive experience.
TEDxAccra is an annual event, where thinkers and doers of our community gather to create and share ideas. It seeks to develop and leverage the TED experience at a community level, bringing together innovative thinkers to connect and discuss great ideas. At TEDxAccra, participants take part in a TED-like experience that will ultimately equip and inspire them into boundless possibilities.
Airtel Ghana has been in the forefront of data and digital innovation providing customers with unmatched products and services to meet their telecommunications and lifestyle needs. The company introduced free Facebook in January 2015 and also provides access to 40 free sites on its network covering health, news, education, job search sites among others.
The company continues to support initiatives to promote breakthrough ideas and empower young developers to turn their ideas into revolutionary applications through its award winning Airtel Apps Challenge. The Smartphone Network also launched its innovative Appstore late last year to provide an avenue for young App developers in Ghana to upload their Apps free of charge with the unique opportunity to monetize their work.
Airtel offers superior voice, data and enterprise solutions for all the telecommunications and lifestyle needs of its customers.
About Bharti Airtel
Bharti Airtel Limited is a leading global telecommunications company with operations in 20 countries across Asia and Africa. Headquartered in New Delhi, India, the company ranks amongst the top 3 mobile service providers globally in terms of subscribers. In India, the company's product offerings include 2G, 3G and 4G wireless services, mobile commerce, fixed line services, high speed DSL broadband, IPTV, DTH, enterprise services including national & international long distance services to carriers. In the rest of the geographies, it offers 2G, 3G and 4G wireless services and mobile commerce. Bharti Airtel had over 353 millioncustomers across its operations at the end of January 2016. To know more please visit, www.airtel.com
About Airtel in Africa
Airtel is driven by the vision of providing affordable and innovative mobile services to all. Airtel has 17 operations in Africa: Burkina Faso, Chad, Democratic Republic of the Congo, and Republic of the Congo, Gabon, Ghana, Kenya, Malawi, Madagascar, Niger, Nigeria, Rwanda, Seychelles, Sierra Leone, Tanzania, Uganda and Zambia. Airtel International is a Bharti Airtel company. For more information, please visit www.airtel.com , or 'like' the Airtel Ghana Facebook page via www.facebook.com/airtelgh or follow us on Twitter via the handle @airtelghana.