Deltans Should Support People Oriented Policies, Programmes Of Gov Okowa --- Ukah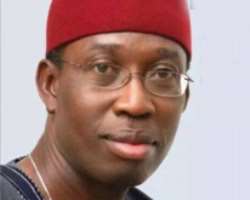 The Delta State Commissioner for Information, Patrick Ogoegbune Ukah has called on Deltans to support the people oriented Policies and Programmes of Governor Ifeanyi Arthur Okowa's administration.
Patrick Ukah who disclosed this with Journalists in Asaba said government was determined to make the teeming Jobless youths in the state self-reliant and had continued to embark on several empowerment programmes across the state.
According to the Okpanam born politician who is using this opportunity to blow the trumpet of Governor Okowa, maintained that despite the dwindling federal allocation to the state, the Governor has done well and properly stabilized the economy of state.
The Commissioner further pointed out that the judicious use of resources, has led to the progress made by the Okowa-led administration in the provision of Micro-Credits to the informal sector.
Ukah who is described as a Sports and Press Friendly Commissioner said, one of the ways Governor Okowa had used to silent the opposition in the state was to engage in even development, adding that in all the projects that the governor has initiated, it goes around the three Senatorial districts of the State.
Hear him, "The amiable Governor Ifeanyi Okowa started with the renovation of the Technical Schools in Sapele, Ofagbe and Agbor. In road construction the Governor made sure that everybody is carried along so that as the Government progresses, citizens of the state will be able to feel the impact of Governor Okowa's government".
He however stressed that Deltans should rally round the Governor to see he succeed in carrying the State to a greater heights.
Meanwhile, Patrick Ukah further informed members of the fourth estate of the realm that he never had any intention to resign his appointment as Commissioner for Information under Governor Ifeanyi Okowa's administration.
He said that the entire reports by Sahara reporters are baseless, unfunded and tendentious.
According to the Commissioner in a release made available to the press and signed by his Media Assistant, Sam Ijeh revealed that for the avoidance of doubts, Patrick Ukah enjoys a good working relationship with His Excellency, Senator Dr. Ifeanyi Okowa and is irrevocably committed to helping the Governor achieve his goal of prosperity for all Deltans.
The release explained that the Ministry of Information has not been split into two, and assured that no new ministry has been created.
Ukah noted that Governor Okowa just recently approved the creation of a Directorate of Orientation out of the department of Orientation in the Ministry of Information to be headed by his Senior Special Assistant, Orientation and Social Mobilization who remained Executive Assistant.
Also gathered was that, the moving of the ICT department and Website to the Government House had occurred before Patrick Ukah was appointed Commissioner.