Airtel Trace Music Star Announces Top 5 Finalists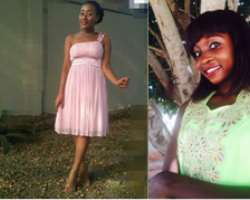 Accra, 26th April 2016 – Airtel Ghana and TRACE have announced the top five contestants for Africa's biggest music talent search and competition, Airtel TRACE Music Star.
After two months of exciting voice entries from thousands of talented Ghanaians, the top 5 contestants who are moving on to the grand finale are MosesUgheighele, Ama Yeboah, Sedem Afaglo, Fathia Gyimah and Vanessa Abossey.
These contestantswere selected by a team of distinguished judges comprising 'Grand papa' of Hip life Reggie Rockstone, the Multi-talented singer and songwriter Becca, and popular radio personality SammyForson for their originality, voice pitch, tone and creativity.
One of the finalists, Sedem Afaglo, expressed her excitement for making it into the finals. She said "Airtel Trace Music Star competition has offered me anopportunity of a lifetime and the feeling is indescribable. I cannot begin to put it in words! I am over the moon with joy and I have to keep reminding myself that this isn't a dream.
This is real! Out of all the entries, I made it this far and I intend to make it all the way to the Pan African finale. This competition has given me a shot at doing what I love! A shot at a real music career. It doesn't get any better than this."
The announcement was made during a live studio session on Live 91.9FM. These top five contestants will compete for the national winner at the National Theatre on the 13th of May 2016. The ultimate winner will walk away with GHC 50,000 and represent Ghana at the Pan African finals to be held in Nigeria.
Cornelius Kakrabah Head of Brands & Marketing Communicationsat Airtel Ghana said,"We want to congratulate Vanessa, Moses, Sedem, Fathia and Ama for making it to the finals. This has been a keenly competitive contests and to have made it this far is a huge achievement. As we proceed to the next stage in the competition, we are giving Ghanaians the opportunity to vote for the ultimate winner to be crowned on Friday 13th May. We will be outdooring the 5 top five contestants and their respective short codes in the coming days".
He continued "Season 2 of Airtel TRACE Music Star has been a huge success. We received well over 200,000entries and Ghanaians have truly embraced this innovative, stress free talent search that enables budding music stars to call, sing and win.
At Airtel, we continue to empower Ghanaians to fully realise their potential and this competition has done just that".
Airtel Trace Music Star is a breakthrough music competition which has simplified the otherwise tedious auditioning processes that typifies most music competitions. All participants did was to simply call the short code 533, recordeda song and one of these five stands the chance of winning a life changing contract with a record label, a mentorship programme with American singer-songwriter Keri Hilson in Atlanta and worldwide media exposure through various TRACE's platforms.
Airtel is Ghana's fastest growing telecommunication network offering unparalleled telecom and lifestyle solutions to its customers.
About Bharti Airtel
Bharti Airtel Limited is a leading global telecommunications company with operations in 20 countries across Asia and Africa. Headquartered in New Delhi, India, the company ranks amongst the top 3 mobile service providers globally in terms of subscribers. In India, the company's product offerings include 2G, 3G and 4G wireless services, mobile commerce, fixed line services, high speed DSL broadband, IPTV, DTH, enterprise services including national & international long distance services to carriers. In the rest of the geographies, it offers 2G, 3G and 4G wireless services and mobile commerce. Bharti Airtel had over 353 millioncustomers across its operations at the end of January 2016. To know more please visit, www.airtel.com
About Airtel in Africa
Airtel is driven by the vision of providing affordable and innovative mobile services to all. Airtel has 17 operations in Africa: Burkina Faso, Chad, Democratic Republic of the Congo, and Republic of the Congo, Gabon, Ghana, Kenya, Malawi, Madagascar, Niger, Nigeria, Rwanda, Seychelles, Sierra Leone, Tanzania, Uganda and Zambia. Airtel International is a Bharti Airtel company. For more information, please visit www.airtel.com, or 'like' the Airtel Ghana Facebook page via www.facebook.com/airtelgh or follow us on Twitter via the handle @airtelghana.