FIRS workers petition Buhari, accuse Babatunde Fowler of shortchanging FG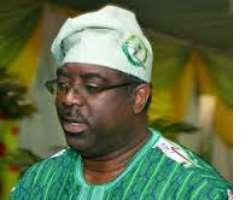 The Executuve Chairman of the Federal  Inland Revenue Service(FIRS) has been accused in a  petition to President Muhammadu Buhari of gross misconduct, verging on corruption.
The petitioners made up by aggrieved staff of the Service accused him of sundry violations of the Inland Revenue Act.
According to the petition  which  copy has been seen by Newsdiaryonline , Fowler is accused of serially breaching the 2007 FIRS Establishment Act.
According to the petitioners,the revenue boss did not waste time in giving an inkling to what he had in mind short changing the federal government in revenue collection.
"As soon as he was confirmed he brought in his lieutenants that will assist him in looting funds for personal use such as 1. Faramade Ogunsunya (his director finance in Lagos) 2. Adebowale Shonekan, 3. Biodun Aina (his SA in Lagos). This is the same persons he used as fronts when he was in Lagos State Internal Revenue" the petitioners alleged.
Also On NewsdiaryOnline
  FG Instals Navigational Aids In Six Airports
They further alleged that "fraudulent  contract, where consultants are engaged to collect taxes who are then paid a per cent age of collection (2%). The 2% is then shared amongst him and others."
Engaging  consultants to carry out duties of assessing and collecting tax or routine responsibilities of tax officials violates  section 12 (4) the FIRS firs Act, 2007, the petitioners allege.
One Biodun Aina is fingered as the major pipeline the FIRS chairman uses to siphon funds illegally.Documents from that count department show Aina's culpability.
"Most of the vouchers are done and paid in Aina's name on behalf of fowler. The minimum amount collected for fowler's personal trips to Lagos is N4m" a source  said
.
Fowler was similarly accused of using fronts to quarterly fleece the government of a whopping N80m by supplying bogus fuel to FIRS vehicles in field offices at above the litre price.
"This amount will be paid even when all the cars did not consume fuel in the quarter" said a source in the agency .
Also On NewsdiaryOnline
  MEND's Endorsement Of Buhari :Jonathan Blames Henry Okah
The petitioners therefore,urged the president to Investigate the multiple invoicing of payments in the name of Biodun Aina
Newsdairy reports that documents also show that Fowler has been on a vehicle purchase spree consisting of two  jeeps And two sedans.
A national daily recently reported that Fowler had secretly hired 5 directors which is a violation of the federal character principles.
Three of the directors come from the Southwest where Fowler hails from.Wahab Gbadamosi  confirmed that they were recruited to assist in the realisation of FIRS 2016 target of N4.9 trillion.