NASS Commission rebuffs Saraki, insists on Sani-Omolori as Acting Clerk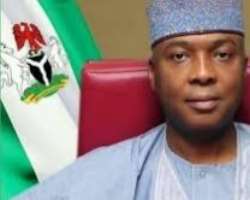 The National Assembly Service Commission has rebuffed the objection of the Senate President over the  the appointment of Mohammed Sani-Omolori as the new Acting Clerk of the National Assembly, saying that his demand for reversal was not tenable.
The senate president, Bukola Saraki, had demanded a reversal of Sani-Omolori's appointment, arguing that the appointment should have rather gone to the clerk to the Senate, Ben Efeturi.
The Executive Chairman of the NASS commission, Adamu Fika, in a letter to the Senate President that was copied to the Speaker of the House of Representatives, Yakubu Dogara, said the decision to appoint Sani-Omolori was because Efeturi would proceed on terminal leave on August 2.
According to him,  that date would just be 12 days before the current Clerk, Salisu Maikasuwa, hands over to his successor.
"This means that Mr. Efeturi is time barred for the acting appointment, hence the choice of Mr Sani-Omolori to act and ensure continuity in that very important public service office.
"In arriving at the commission's decision, the chairman did not use his casting vote, because eleven commissioners were in support while only one voted no," he said.
He clarified that the rejection of Efeturi for the position was not due to the allegation that he (Efeturi) was not duly appointed as Deputy Clerk as contained in Saraki's letter.
On the issue of seniority, he noted that the duo were both appointed acting clerk on the same day, February 4, 2010, and were later appointed Substantive Clerks on March 25.
However, he added that Omolori was made a Director on January 1, 2007, one year earlier than Efeturi, who was made a Director on January 1, 2008.
"It should be noted that in the Nigeria public service, seniority is determined at the time of consideration for promotion and career progression chart leading to it.
"Seniority has never and is never decided by the date of appointment to the service nor date of retirement from service or indeed the number of years spent in the service.
"From the above analysis, denying Mr Mohammed Sani-Omolori appointment as Deputy Clerk to the National Assembly in 2014 was improper being that he was senior to Mr. Benedict Efeturi.
"With the above explanations, the issue of misleading and misinforming your good self and the Honourable Speaker of the House of Representatives does not arise.
"The commission properly evaluated the two officers and took into account their service records as a determining factor for the appointment of Acting Clerk to the National Assembly.
"In light of all the foregoing, Your Excellency will agree that reversing the decision of the commission appointing Mr Mohammed Sani-Omolori as the Acting Clerk to the National Assembly cannot be tenable in the circumstance," he said.