Jeremiah Gyang Flaunts His Lovely Family in this New Photo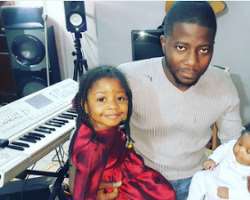 Gospel singer, Jeremiah Gyang sure got a sweet family. Take a look at his lovely family that he has shared on the social media. The singer who got married to his beautiful wife and Personal Assistant, Ladi , now have two daughters.
It would be recalled that on the 28th of August 2010, Jeremiah married his longtime love Ladi Otache in Jos, Plateau State. Jeremiah and Ladi have been dating for over a decade and are known as a tight knit and private couple. In the past, Ladi has acted as Jeremiah's PA, and has since their marriage continued to act as his PA.
In 2015, Gyang explained to the world how much he adores his wife, Ladi. He had captured his teeming fans with his magical unique sound on this tune titled 'Ladi's Song'. Solomon Lange was the man who perfectly told us this rare love between the couple
He had said about Ladi and Gyang "It's always inspiring when a man loves his wife and he is not ashamed to tell the world about it. Check out this beautiful song my brother Jeremiah Gyang recorded for his beautiful wife Ladi. "
It is good to know that the couple is still in love over these years.