Video: See what happened to Tiwa Savage after appearing to an event uninvited!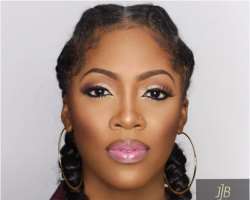 Over the weekend, Tiwa Savage's fan got the best wedding gift ever. The lady was joined in holy matrimony with her heartthrob on Saturday 23th of April.
The Mavin artiste decided to give back to her fan as she appeared unexpectedly at the wedding venue. It was an emotional moment, as the bride was emotional and ran to embrace the singer immediately she came in.
The hall was filled with screams on her arrival; there was so much love for the Eminado crooner. She couldn't hide her excitement as she decided to share her experience to the rest of her fans.
In her words: "something in this life is priceless. I love my supporters and always try to do everything in my power to show how much I appreciate them. I have some loyal ones, and one of them just got married. When I found out she was getting married, I re-arranged my schedule, she had no idea I was coming and the expression on her face was worth any money I lost."