400000 died from malaria infections in 2015: WHO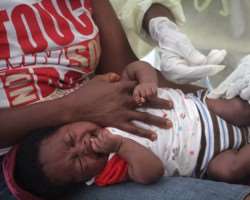 The  World Health Organisation has put number of deaths from malaria infections in 2015 at 400, 000. The International agency in a report  released in Geneva, Switzerland as part of activities to celebrate the World Malaria Day on Monday,  projects  that 21 countries  would eliminate local transmission of malaria by 2020.
Remarkably, this would include six African countries.
The  report is titled, "Global Technical Strategy for Malaria 2016-2030." said there had been a significant reduction in the population of children and adults dying of the disease in the last one year.
It also stated that in addition to Europe, eight countries including Argentina, Costa Rica, Iraq, Morocco, Oman, Paraguay, Sri Lanka and United Arab Emirates witnessed a great reduction in malaria-induced deaths.
An international goal to eliminate malaria in parts of the world by 2030 is ambitious but "achievable", the World Health Organization (WHO) said on Monday – World Malaria Day.
Last year, world leaders set the target for eliminating the mosquito-borne disease in at least 35 countries by 2030.
WHO's European region – which comprises 53 countries including Central Asia, Israel and Turkey – in 2015 became the first region to report zero indigenous cases.
WHO can declare a country malaria free if it has reported zero cases of indigenous malaria for three consecutive years.
The Geneva-based organisation said 21 countries are in a position to eliminate malaria within the next five years.
Here are some facts on progress in eliminating the deadly disease:
* 3.2 billion people – almost half the world's population – are at risk of malaria. In 2015, there were 214 million new cases reported in 95 countries, and more than 400,000 deaths.
* Africa is the most affected region, home to 88 percent of cases and 90 percent of deaths last year.
* Since 2000, malaria death rates have fallen by 60 percent, and new cases have dropped by 37 percent globally. In Africa, death rates dropped by 66 percent overall, and by 71 percent among children under 5 years.
* These advances came through widespread use of insecticide-treated bednets, indoor spraying, rapid diagnostic testing and artemisinin-based combination therapies over the past decade.
* Mosquitoes are developing resistance to insecticides used to treat bednets and for indoor spraying.
* In parts of Southeast Asia, a parasite that causes malaria has developed resistance to treatments, and there are concerns this resistance could spread to other regions with dire health consequences.
* Resistance to previous generations of medicines, such as chloroquine and sulfadoxine-pyrimethamine, became widespread in the 1970s and 1980s, reversing gains in child survival
* In January, WHO recommended large-scale pilot projects of a new vaccine in parts of Africa, which could pave the way for wider deployment.
The Director of the WHO Global Malaria Programme, Dr. Pedro Alonso, noted at the release of the report that government must invest in new malaria control technologies, if Africa must meet global targets towards eliminating the disease by 2030.
According to him,"Since the year 2000, malaria mortality rates have declined by 60 per cent globally. In the African region, malaria mortality rates fell by 66 per cent among all age groups and by 71 per cent among children under five years.
"But reaching the next level elimination will not be easy. Nearly half of the world's population,  3.2 billion people, remain at the risk of malaria. Last year alone, 214 million new cases of the disease were reported in 95 countries and more than 400 000 people died of malaria."
The WHO chief said that  even though infections rates had decreased especially in children, Africa still accounted for more than 90 per cent of the deaths recorded from the disease in 2015.
, "New technologies must go hand in hand with strong political and financial commitments. Governments must strengthen surveillance of cases to identify gaps in coverage and be prepared to take action based on the information received,"he said.
"As countries approach elimination, the ability to detect every infection becomes increasingly important. This strategy will require an increase in global and domestic funding from $2.5bn today to an estimated $8.7bn annually by 2030."
With agency reports