Appeal Court says it'll no longer entertain motion for stay of proceedings on Saraki, Dasuki, Metuh's trials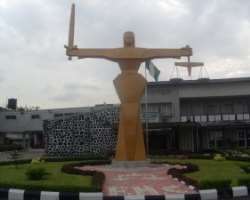 The Court of Appeal in Abuja said on Monday that it would no longer hear applications for a stay of proceedings in the trials of the Senate President, Bukola Saraki; a former National Security Adviser, Col. Sambo Dasuki (retd.); and the National Publicity Secretary of the Peoples Democratic Party, Chief Olisa Metuh.
Justice Abdul Aboki, who presided over the three-man panel of the appeal court when Metuh's appeal was mentioned on Monday, gave a clear warning against the filing of notice of a stay of proceedings.
"We have decided that we will not hear motion for a stay of proceedings. You should go back to the court to argue your application before the court and pursue your appeal before us," Justice Aboki said.
He did not say whether the court's position was only limited to only criminal cases or it would also affect civil appeals.
In response, Metuh's lawyer, Mr. Onyechi Ikpeazu (SAN), said he thought he would be allowed to convince the court on the merit of the motion for a stay of proceedings which he filed on behalf of his client.
Justice Aboki said, "We are not going to allow that, even if you file it, we are going to dismiss it straightaway."
Metuh and his company, Destra Investments Limited, had filed separate notices of appeal against the ruling of Justice Okon Abang of the Federal High Court in Abuja, dismissing their application for a no-case submission.
The PDP's spokesperson is being prosecuted along with his company before Justice Abang by the Economic and Financial Crimes Commission on seven counts, including money laundering involving $2m cash transaction.
Other counts bordered on alleged fraud involving N400m, which he allegedly received in November 2014 from the Office of the NSA, then under the leadership of Dasuki.
The Court of Appeal on Monday directed the prosecuting counsel, Mr. Tahir Sylvanus, to file new separate notices of appeal, instead of the only one which he had filed, against the two notices of appeal filed for Metuh and Destra Investments Limited.
Metuh's appeal was adjourned till May 5 for hearing.
On his part, Saraki filed an appeal before the court to challenge the March 24, 2016 ruling of the Code of Conduct Tribunal in Abuja, where he is being prosecuted on 13 counts of false asset declaration.
Earlier on Monday, Saraki's  lawyer, Chief Kanu Agabi (SAN), who appeared before the three-man panel of the appeal court, voluntarily withdrew the application for a stay of proceedings, which he filed accompanying his client's notice of appeal.
But Dasuki's lawyer, Mr. Joseph Daudu (SAN), who also appeared before the same appeal court's panel on Monday with respect to his client's appeal, said he would take the decision on whether or not to withdraw his motions for a stay of proceedings after receiving EFCC's respondent's brief.
"If I see the respondent's brief, I will be able to make the decision," Daudu said.
Dasuki filed the notices of appeal with respect to two separate appeals, challenging the rulings of Justices Baba Yusuf and Peter Affen of the Federal Capital Territory High Court in Maitama, dismissing the ex-NSA's applications seeking the orders stopping his trial.
Justices Yusuf and Affen had, on February 8 and March 4 respectively, dismissed the separate applications by Dasuki, asking for orders prohibiting the EFCC from prosecuting him on two sets of charges of diversion of funds meant for procurement of arms.
Justice Adeniyi Ademola of a Federal High Court in Abuja also on April 19 dismissed a similar application which like the two others, was anchored on the ex-NSA's continued detention in the custody of the Department of State Services since December 29, 2015.
The appeal court said on Monday that dates for hearing the appeals by Saraki and Dasuki would be communicated to the parties through their lawyers.
Source: Punch