HEWLETT-PACKARD BUYS STRUGGLING PALM FOR $1BN IN CASH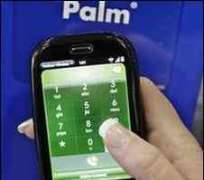 The Palm Pre was dubbed an 'iPhone killer'
Palm, a pioneer in the smart phone business, is being bought by US computer giant Hewlett-Packard (HP) for $1bn (£657m) cash.
HP said Palm's webOS operating system would help it expand more aggressively in the fast-growing market for smart phones and connected mobile devices.
When Palm's debt is included, the deal values the company at $1.2bn.
HP, paying $5.70 for each Palm share, said it hoped to complete the deal by the end of July.
Although HP is paying a premium to Palm's closing share price on Wednesday of $4.63, it is well below the company's 52-week high of $18.09.
Struggled to compete
Last year Palm unveiled a well-reviewed touch-screen phone, the Pre, but which did not hit its sales target.
Although once a trailblazer in handheld devices, Palm has in recent years struggled to compete in a market dominated by Apple and BlackBerry.
HP said Palm's chairman and chief executive, former Apple executive Jon Rubinstein, was expected to remain with the company.
Donna Dubinsky and Jeff Hawkins founded Palm in 1992, and in 1995 it was bought by US Robotics, a modem maker that itself was bought by 3Com in 1997. Palm was spun off again as its own company in 2000.
It is thought that Dell, one of HP's rivals, was also interested in buying Palm.