British Council Kicks Off Conference To Promote Collaboration Between UK And Nigerian Creative Industry Stakeholders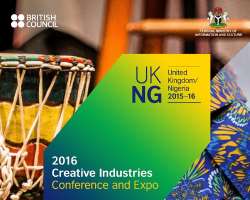 Abuja | 20 April 2016 – Key public and private sector stakeholders in theNigerian and UK creative industries will meet to discuss ways to stimulate creative sector collaboration between both countries at the 2016Creative Industries Conference and Expo on 26 and 27 April.
The annual event, organised by British Council, is presented this year in partnership with the Federal Ministry of Information and Culture as part of the British Council UK/NG 2015–2016 programme which aims to stimulate further bilateral collaboration between the creative industries in both countries.
Keynote speeches on the economic importance of creative industries to Nigeria and the UK, as well as panel discussions on Investment Models for the industry and more, will be delivered at the conference.
The event will also feature panel discussions as well as trade and creative showcases. It will be opened by the Honourable Minister of Information and Culture, Alhaji Lai Mohammed, who will also give a key note speech alongside Mr Graham Sheffield (CBE), (Global) Director of Arts, British Council. The various sessions will feature different high profile speakers including the Commissioner for Arts, Tourism and Culture, Lagos State, Mr Folorunsho Coker and Mrs Eugenia Abu, Executive Director NTA. Other speakers include Akin Oyebode (Lagos State Employment Trust Fund) and Audu Maikori, Chocolate City Group. UK speakers also include Tom Fleming, one of the leading Creative Economy experts in the world, and YemisiMokuolu of Hatch Africa, UK.
The British Council's joint vision with the ministry is that through discussions like these that lead to concrete international partnerships (particularly with the UK), Nigeria can become a leading Creative Economy globally, matching dynamic Creative Economies elsewhere. Ms Connie Price, Country Director British Council Nigeria, when speaking of the conference said - I am glad to say that this conference helps us contribute to ongoing discussions about how to create, and sustain, the enabling environment that will make this possible.
About UK/Nigeria 2015–16
UK/Nigeria 2015–16 is a major season of arts in Nigeria aimed at building new audiences, creating new collaborations and strengthening relationships between the UK and Nigeria. For more information, please visit https://www.britishcouncil.org.ng/uk-nigeria-2015-16
About the British Council
The British Council is the UK's international organisation for cultural relations and educational opportunities. We create international opportunities for the people of the UK and other countries and build trust between them worldwide.
We work in more than 100 countries and our 8,000 staff – including 2,000 teachers – work with thousands of professionals and policy makers and millions of young people every year by teaching English, sharing the arts and delivering education and society programmes. The British Council has been in Nigeria since 1943. We currently operate from offices in Abuja, Kano, Lagos and Port-Harcourt and continue to engage in cultural relations work, building links between citizens of the United Kingdom and Nigeria. Our activities are delivered through our Arts, Education, English and Society business units as well as a thriving exams unit providing opportunities for thousands of Nigerians to acquire globally recognised qualifications.
We are a UK charity governed by Royal Charter. A core publicly-funded grant provides less than 20 per cent of our turnover which last year was £864 million. The rest of our revenues are earned from services which customers around the world pay for, such as English classes and taking UK examinations, and also through education and development contracts and from partnerships with public and private organisations. All our work is in pursuit of our charitable purpose and supports prosperity and security for the UK and globally.
For more information, please visit: www.britishcouncil.org.ng