IBB waxes philosophical as he dispels death rumours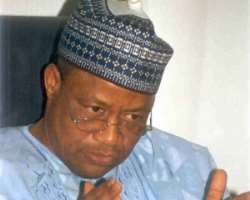 Former military President Ibrahim Badamasi Babangida has  waxed philosophical over death as he sought to dispel the rumours  of his death.
The retired general, who was head of state of Nigeria from 1985  till 1993 when he 'stepped aside' said he does not care a hoot about  last week's rumour of his death.
H deposed the incumbent president Muhammed Buhari that was then leading the country as a military leader.
Babangida, who spoke to journalists  at his Hilltop Mansion in Minna, the Niger State capital, said that death is an inevitable end which awaits every mortal and therefore should be something of great concern.
He said,  "The rumour does not shock me; neither does it bother me because I know I must go and meet God, my creator. There is nothing really to worry about, my religion has told me.
"As a Muslim, I strongly believe everybody will die, everybody will die and everybody has to die.  It could be now or in hundred years' time or two days to come but it doesn't matter. Everybody must die."
Gen. Babangida, 74, said nobody is above illness or death because it has been destined by God.
Last week, the Nigerian media was awash  with speculations over the health of the former head of state, with some adding that he was critically ill. But  was reportedly okay when he spoke with reporters.
Despite the current  challenges facing the country,  the retired general believes  Nigeria will come good.
"I still believe very strongly in this country, which is further demonstrated by the people of this great nation because they are a very industrious people, hardworking. That gives me the hope for Nigeria," he said.