Okonjo-Iweala's Critics on Saving: Lest We Forget!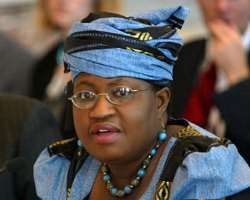 Words of wisdom, is not often from the elders, it comes from those who know and can recognize it. Whatever has befallen our economy today can be attributed to the role that certain people who earlier opposed former finance minister, Dr (Mrs) Ngozi Okonjo-Iweala. My people say that when the child falls, he simply looks forward to know where is going, but when the adult falls, he looks back to know where he slipped. The challenge one often has is that one's critics can be so beclouded by ethno-political ambitions were hell-bent on falsifying or denying their role in history. These same people, who are nothing but shylocks and modern-day buccaneers, are out again in their usual blame game.
Let us take some of Okonjo-Iweala's critics on the question of saving for the rainy day. Recently, these same individuals are out to eat their own words or go back to their vomits. After getting what they fought amorally for, they have now resulted to eating their own words!
No less a person that the All Progressives Congress (APC) national leader, Bola Ahmed Tinubu speaking to an august audience in 2013 made the following statement, "For instance, the accumulation of money by the Federal Government is a misplaced objective for these times. We have about $46 billion in foreign reserves earning about one or two per cent while we have about $42 billion in domestic debt on which the government is paying up to 16 per cent. This makes no sense and it crowds out the private sector borrowers and investors. Our driving purpose must be to channel idle human and material capacity into productive streams that furnish jobs and manufacture tangible goods bettering the living conditions of every citizen."
He continues: "I believe in the national government saving money if it is for a purpose more than saving sake. For a government that prints its own currency, to save that currency for merely for saving's sake is to accumulate worthless paper. Instead, our money must jumpstart development to enrich the broadest spectrum of the people. To say we are saving money for a rainy day while everyone is already drenched and wading through flood waters makes little sense to me."
"We must shun the philosophy that says "better to save money and spend the people." I say better to spend money and save people." (Bola Tinubu, The Nation, March 08, 2013).
I read this statement from the opposition (as it was then) party leader and will you believe me if I told you that I was one of those who applauded this logic? As one who is a known disciple of famous economist, John Maynard Keynes, I had to swallow Tinubu's opinion hook, line and sinker. Does he still hold this opinion?
Let us see what another former governor did during his time as River state Governor. Chibuike Rotimi Amaechi, rarely needs introduction. As recently as last year, while he held sway in Port Harcourt. He withdrew, in connivance with corrupt elements in the state House of Assembly a whopping sum of N19 billion from the state's reserved fund. When confronted by the media, the speaker of the House, Rt Hon. Otelemaba Dan-Amachree, in defence of the Governor said:
"The request before us couldn't have come at a better time. The essence of saving is for rainy days such as this. We are lucky that we are approving the governor to access funds that have been saved. These funds will be ploughed in ensuring that in line with the policy of government not to leave any project abandoned; government will channel these funds towards completing capital projects,"
Looking at these two men's positions then and now, we will come to certain conclusions about them and the institutions they represent. First, both played important roles during the APC's campaign in 2015. They were at the forefront of party propaganda disseminations. They will say just anything, climb any mountain, and go any low to see their party gets elected. They will pay any price, bear any burden, oppose any foe and even befriend any devil just to achieve their narrow ambitions.
These traditional critics, who told us that Okonjo-Iweala knows nothing about economic, are out again. They are now in power, yet have no idea of how to convert power for beneficial purposes. They are caught, tail within their legs of the lies they told the whole world. They ridiculously failed in fulfilling their electoral promises to Nigerians yet they look for scapegoats. Their most convenient scapegoat has so far been the former minister who has since gotten several international jobs keeping her busy since she voluntarily left the Nigerian public service a less than a year ago. These people want us to forget they told us lies, yet they want us to believe them.
Bade Adebolu is an accountant based in Ado-Ekiti. He can be reached on [email protected]
Disclaimer:

"The views/contents expressed in this article are the sole responsibility of the author(s) and do not necessarily reflect those of The Nigerian Voice. The Nigerian Voice will not be responsible or liable for any inaccurate or incorrect statements contained in this article."