I raped friend's daughter because I had no money to patronize prostitutes – Suspect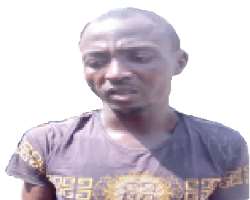 He bowed in shame and self pity when approached, burying his face in his palms. When asked what brought him to the Lagos State Police Command , he burst into tears, still refusing to lift his face. After waiting endlessly for his response, he slowly lifted his head, with tears trickling down his cheeks. He spoke in an inaudible voice saying , 'The devil pushed me to rape my late friend's daughter.'
Thirty-two year-old Nurudeen Oriyomi was arrested for allegedly defiling his late friend's 12-year-old daughter at Alhaji Yinusa street, Bariga, Lagos. The act took place in his one-room apartment at about 2pm on April 9, 2016, while the girl was sent on an errand.
Information at Crime Guard's disposal had it that Oriyomi and the father of the primary five pupil were friends before the latter's demise two years ago. Since then, Oriyomi had reportedly been close to the family .
How it happened
However, the relationship took a sinister dimension penultimate Thursday, after Oriyomi allegedly defiled the eldest child. The suspect, as gathered, stood in front of his house when he sighted the 12-year-old girl ( name withheld) passing-by. He called her and asked where she was going, before inviting her inside, pretending to send her on an errand. He ended up defiling her.
The burble burst
But the burble burst five days later, after the girl's mother noticed she was walking with difficulty. She reportedly ignored her initially, apparently thinking she could have sustained the injury while playing. But she was attracted to the blood stain on her daughter's pant when she sat opposite her to relate activities of the day.
Apparently thinking she had started observing her monthly menstrual flow, she curiously asked her daughter, who revealed to her dismay, after much persuasion, that she was raped by 'brother' Nurudeen as he was popularly addressed. The primary school pupil further told her mother that when she wanted to shout during the act but Oriyomi gagged her and after that, gave her N50, with a stern warning not to disclose what happened to anyone.
Mother accosts suspect
Unable to believe what she has just heard, the widow intimated a neighbor who insisted that Oriyomi must be accosted . He was said to have owned up and begged passionately to be forgiven.
But the case was reported at Bariga division , consequent upon which he was arrested. The case was later transferred to the gender Unit, Lagos state Police Command where operatives swung into action by taking the victim to the Lagos State University Teaching Hospital, where a test conducted confirmed that her hymen had been broken .
Suspect blames devil for act
Oriyomi was paraded among other alleged suspected criminals terrorizing Lagos State. In this interview with Crime Guard, he blamed his indulgence on the devil and hardship which he said made him unable to get money to patronize commercial sex workers.
Hear him; ' I am a visitor here because I raped my friend's daughter. I was actually sex- starved and was looking for every available means to ease myself. Before now, I used to patronize commercial sex workers any time I had such urge. But on this day, I had no money to pay them (commercial sex worker) or to buy condom . I was just outside contemplating on what to do when I sighted her. I called her inside, asked her to pull her dress while I pulled her pant and had carnal knowledge of her.
When her mother came, I admitted and begged her to forgive me but I never knew she did not forgive me,' stated the suspect from Ilorin, Kwara state.
CP raises alarm over spate of rape
Expressing worry over the spate of rape and defilement in the state, the Commissioner of Police, Fatai Owoseni, disclosed that the record of rape was alarming, citing Bariga area of the state as the area with the highest record of rape. He disclosed that the 12 year-old girl was traumatized and was being medically treated at Mirabel Medical Centre, Ikeja.
He, therefore, implored parents to be wary of those they keep their children with, especially females, stating that 'if they can't take their children to where they go to, then they should learn to keep them in safe care. Shomolu, Bariga areas are known for that. We want the public to join hands in eradicating cases of defilement. This case is a wake up call to all parents, specially mothers who leave children in the hands of neighbors and family friends they are not sure of their character,'he said. - Vanguard.