Fayose: Combining Opposition Politics With Developmental Strides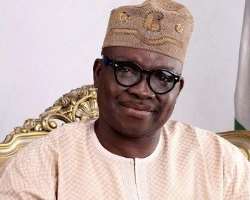 Even though I have never been his fan and I am still sceptical of becoming one, one thing no political analyst in Nigeria can dispute today is that Governor Ayodele Fayose of Ekiti State has become the loudest voice of the opposition in the country. A few weeks ago, in his article titled; "17 reasons for PDP's resurgence (II)" a popular columnist in one of the leading national newspapers in the country described Fayose as the proverbial "Oko iya won" (the husband of their (APC) mother) and went on to write that; "Fayose has done marvellously well, even if malevolently, helping to keep Buhari\APC on their toes."
The columnist, Bola Bolawole (he has never been Fayose's fan too) capped his impression of Fayose's role as the emerging opposition leader up with the use of this Yoruba statement - "Fayose kan; APC\Buhari kan." Obviously, by being courageous to say what every Nigerian knows but is afraid to say, Governor Fayose has become the beacon of light in a nation caught and overwhelmed by the preponderance of sudden darkness.
Fayose has undoubtedly become a kind of a "one man opposition" in Nigeria, and for that singular reason, all sorts of dirt are being thrown at him by those who are yet to realise that in a democracy, freedom of speech is sacrosanct. They have laid all manners of mines on his political path, yet Fayose keeps moving on.
Impeachment, military panel, DSS invasion and now plot to arrest some of his trusted lieutenants by the police for allegedly stockpiling arms during the June 2014 governorship election, all efforts to silence him remained futile. It is however not Governor Fayose's ability to survive the mines being consistently laid on his political path that is of major interest to me. Rather, it is his ability to sustain his developmental efforts in Ekiti State even when his position as governor is being constantly threatened and the state economy was evidently brought to its kneels by the immediate past All Progressives Congress (APC) government of Dr Kayode Fayemi.
When I saw the news of the governor's flag-off of a N5.7 billion 1.2km flyover bridge in Ado-Ekiti on television, I was like; what an ambitious governor this man is! Apart from the 1.2km flyover bridge that the governor said will cover from Fajuyi roundabout to Ojumose in Ado-Ekiti and to be completed within two years, I am aware that the governor is constructing an ultra-modern Oja Oba market in the State capital.
He is also rehabilitating and illuminating the Secretariat road while also rehabilitating and extending the Ado-Ikere road dualisation to the roundabout in Ikere-Ekiti. In the last one year, Awedele - Secretariat road in Ado-Ekiti was dualised and illuminated, ditto 1km Afao-Ekiti township road. Petim-Housing Estate Road and Irode Matthew street road, Ado-Ekiti were also constructed while Fayose market in Ado Ekiti was asphalted.
Apart from roads, 74 lock-up shops were constructed at Elegberun market, Ikere-Ekiti while 40 lock-up shops were constructed at the Bisi Egbeyemi market, Ado-Ekiti. An ultra-modern lecture theatre was also constructed at the College of Education, Ikere-Ekiti. The last time I visited Ado-Ekiti, the State capital, I saw at Fajuyi roundabout a magnificent edifice – Funmilayo Olayinka Women Development Centre, built in honour of the late Deputy Governor of the State, Mrs Funmilayo Olayinka, who was Fayemi's deputy and inside the palace of the Ewi of Ado-Ekiti, Oba Rufus Adejugbe is an amphitheatre constructed by the Fayose administration. I am told the Funmilayo Olayinka Centre will be commissioned this month. Dualisation and illumination of 1km road in Local Government Headquarters has started in Efon-Alaaye, Ise, Emure, Omuo and Ikole-Ekiti while Awo-Ara-Ijero road and Iropora-Araromi-Ijero roads are now being rehabilitated.
To say that Governor Fayose is doing all these and still helping Nigerians to keep the APC federal government on its toes is to say that the governor has a kind of heart that is stronger than that of a lion. Last week, he stunned millions of Nigerians when he wrote a letter to the Chinese government, advising that the $2 billion being sought by the federal government should not be granted. Expectedly, this move was greeted with mixed reactions from Nigerians.
While supporters of President Mohammadu Buhari and his party, the APC posited that the governor acted against the constitution, those in support of the governor said he only exercised his rights as a Nigerian. Even the APC's Majority Leader in the House of Representatives, Hon Femi Gbajabiamila had to do a counter letter to the Chinese Government in response to Fayose's letter.
However, on April 15, Fayose's letter got reported in the Europe Newsweek newspaper, a staple of American media which has existed for over 80 years. In the news report written by Conor Gaffey, the Newsweek said; "Fayose's criticism of Buhari is not without precedent.
The Ekiti governor previously criticized the president for attending a nuclear summit in Washington, D.C. from March 31-April 3 while Nigeria was suffering power outages and a fuel shortage that has seen massive queues gather outside gas stations across the country. The PDP member has also been scathing of Buhari's handling of the 2016 budget, which the president is yet to sign off.
The budget was first proposed by Buhari in December 2015 but its implementation has been slowed after various irregularities were discovered, such as 795 million naira ($4 million) being set aside for the renovation of one unnamed government ministry's website.
The newspaper went on to quote one of Fayose's tweets; "Nigerians should expect more blunders like this budget crisis until they send Buhari back to Daura in 2019." With this focus by foreign media, it is getting certain that even Fayose's ardent critics may no longer be able to ignore him as the emerging face of opposition in the country. How he is however combining this opposition role with development of his State is what only objective political minds can decipher. Olumuyiwa, a public analyst lives in Lagos