ELECTION 2010: IMMIGRATION NOT OFF LIMITS, SAYS JOHNSON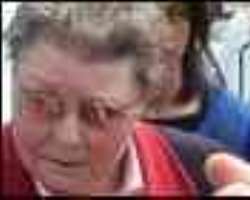 The moment Gordon Brown was caught on microphone
Labour is not treating immigration as "off limits" a minister says after Gordon Brown called a pensioner who raised the issue "bigoted".
Ahead of the final TV debate, Labour's Alan Johnson said it was "perfectly legitimate" to raise the topic.
Mr Brown was under a lot of pressure and made a "dreadful mistake", he said.
Mr Brown has apologised. He will face David Cameron and Nick Clegg for a debate focused on the economy in Birmingham from 2030 BST.
The BBC's Nick Robinson said he expected a feisty performance from Mr Brown, who would be fighting not just for himself but also for the future of the Labour Party, amid fears the gaffe will sap morale and persuade people not to bother to vote.
'Not insensitive'
Home Secretary Mr Johnson said pensioner Gillian Duffy had not been bigoted to raise the topic of immigration from eastern Europe and he was "really pleased Gordon made that clear".
He said Mr Brown was "under a great deal of pressure" – from dealing with the demands of the campaign as well as being PM – and had made a "dreadful mistake".
"No-one can suggest that this wasn't damaging, I think we have to look at how Gordon responded. People will have sympathy for the fact that sometimes you say things you wish you hadn't said."
Gordon isn't a monster and the issue of immigration isn't off limits
Alan Johnson
He said Mr Brown was "not insensitive to 65-year-old pensioners from Rochdale" and "would not have wanted to have hurt Mrs Duffy's feelings".
"We must discuss these issues and Mrs Duffy's comments are shared by many and they are perfectly legitimate."
He added: "Mrs Duffy isn't bigoted, Gordon isn't a monster and the issue of immigration isn't off limits."
'A disaster'
Mr Brown has apologised to Mrs Duffy, who said she had only gone out to buy a loaf of bread when she saw the the Labour leader and challenged him on a variety of topics – including immigration from eastern Europe.
In comments caught on a microphone afterwards, Mr Brown was heard to tell an aide that the meeting "was a disaster" and call Mrs Duffy a "bigoted woman".
He later went to the pensioner's house to apologise in person and emerged to say that he had made a mistake and "misunderstood" some of the words she had used and apologised to Labour activists in an e-mail.