Ex-Gov, Obi Donates N1mn To School, Urges Assistance To Needy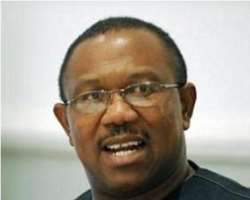 Peter Obi, former governor of Anambra State, has continued his philanthropic gestures to people and institutions that need assistance.
At Awba Ofemili where Obi demonstrated his latest gesture, he encouraged the wealthy to deploy their wealth in serving God through serving humanity.
Obi had gone there to donate N1million for the rehabilitation of Progressive Primary School, Awba-Ofemili.
He said he was moved to visit the school after Rev. Fr. Coleman Onuegbu, who was in charge of the school told him about the condition of the school during the Christmas mass.
He said that he would continue to reach out to his friends and institutions, as well as deny himself unnecessary luxuries to raise and save money to assist people and institutions in dire need.
Speaking during the visit, Mr. John Ozuah , Headmaster of the school, prayed to God to bless the former governor for his exemplary leadership yet to be equalled and for his large heartedness to continuing the contribution to the progress of Anambra State even as a private person.
Mr. Ozuah who said that the three renovated classrooms in the school were done by Mr. Obi when he was the Governor, thanked him for rehabilitating the 4th and last one even when he was out of office.
He recalled that the Community Secondary School in the town was equally completely rehabilitated by Obi when he was the Governor.
In his speech, Rev. Fr. Coleman Onuegbu, Manager of the school, thanked Obi for always remembering and assisting the poor.
The Rev. Fr. who took him to the town's source of water supply which was a collection of flood water at the estuarine appealed to him to rally round his friends and assist the town further.
- See more at: http://independentnig.com/2016/04/ex-gov-obi-donates-n1mn-school-urges-assistance-needy/#sthash.Jhjf3DKT.dpuf