GREECE CRISIS: EUROPE 'MUST ACT FAST' EX-MINISTER WARNS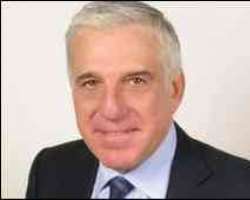 Yannos Papantoniou engineered Greece's entry into the euro
Greece must be prevented from becoming "the Lehman Brothers of the sovereign debt crisis", the chief architect of Greece's entry to the euro has warned.
Dr Yannos Papantoniou, Greece's Economy Minister between 1994 and 2001, urged Europe to act "at very high speed" to rescue the economy.
A rescue package for Greece is still being negotiated, with Germany demanding tough economic reforms.
An agreement is expected to be agreed in the next few days.
It is expected to be worth 45bn euros ($59bn; £39bn) in loans to Greece in the first year, which it urgently needs in order to refinance its huge public debts.
In recent weeks, international investors have shown they are effectively unwilling to lend Greece money.
Continue reading the main story
We have lost a lot of time… the reputation of the eurozone has been hurt
Dr Yannos Papantoniou
Former Greek economy minister
Q&A: Greece's economic woes Greece crisis: Is there an exit? Greece's 'death spiral'
Portugal investor confidence bid
Greece's cost of borrowing fell slightly on Thursday morning, reflecting a slight improvement in investors' confidence, but interest rates remain prohibitively high.
Despite pledging to hammer out a deal, the German Chancellor Angela Merkel questioned whether Greece should have been allowed into the eurozone in the first place.
She said the decision "may not have been scrutinised closely enough".
In an exclusive interview with the BBC, Mr Papantoniou blamed Germany for holding up a deal, saying "forces within German politics" were seeking to push Greece out of the single currency.
He called the current economic situation in Greece "very dangerous", and blamed Europe's slow response to the crisis so far for "sending confused signals to the market".
"We have lost a lot of time," he said. "The reputation of the eurozone has been hurt [and] the stability of the euro has been impaired.
"But even at this late stage it is important for the eurozone to show its determination and effectiveness in dealing [with the crisis].