NIGER – UN WARNING OVER TOTAL CROP FAILURE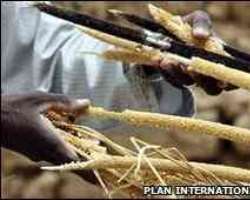 Drought has prevented millet plants from forming grains
Niger is threatened with total crop failure in some areas and the situation is worse than the 2005 crisis, the UN humanitarian chief has told the BBC.
But John Holmes said the new government is co-operating in aid efforts.
Ex-President Mamadou Tandja, toppled in a coup in February, was criticised for doing too little then and saying the crisis had been exaggerated.
Nearly 8m people are affected by the drought this year and the UN says up to $130m (£85.5m) is needed to help them.
'Alarm sounded'
On a visit to the West African country, Mr Holmes said aid agencies had identified – and were dealing with – the problem early enough to make a difference.
I have a daughter who attends school; she can't eat every day
Zinder resident
In pictures: Niger's food crisis
"We have sounded the alarm much earlier," he told the BBC's Network Africa programme
"And we are tackling it much earlier so I hope that we can avoid the worst, and avoid the kind of scenes we've seen before in Niger or in Ethiopia in the 1980s."
The UN emergency relief co-ordinator was visiting the Zinder area of southern Niger, where he said rates of malnutrition in children had increased because of the lack of food.
People in Zinder told the BBC about how the food shortages were affecting their lives.
"I don't have any food because this year has been very hard," said Nana Mariama.
"I seldom have one meal a day: my breakfast. I have a daughter who attends school; she can't eat every day. My husband has gone to Nigeria to fetch food."
Another man said he had lost more than 80 cattle.
"The remaining donkeys are so weak that we have to help. We have to lift them up every time, because there is no food. No pasture."
Mr Holmes said he was optimistic that the current military junta was serious about dealing with Niger's food crisis.
"But we have some advantages in that the government is much more open about it and cooperative about it [the food crisis] than they were in 2005," he told the BBC.
Elizabeth Byrs, spokesperson for the UN Office for the Co-ordination of Humanitarian Affairs in Geneva, said the government had already taken some action.
"Current activities implemented by the state and its partners include cash-for-work programmes, low-price sales, cattle-feed distribution, cereal banks and targeted nutritional blanket feeding programme to prevent malnutrition," she said.
But a lot still remains to be done, she added.