Timi Dakolo Takes off Blazers to Eat Along The Road (photo)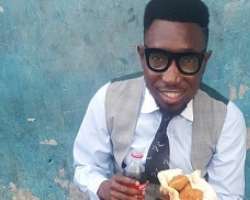 No matter his status in the Nigerian entertainment industry, singer, Timi dakolo, knows that there is a special power in eating bread with Beans cake (Akara) with a soft drink before going out in the morning.
The singer was well dressed and on his way to an important event on the Island and on sighting where bread and beans cake was being sold he decided to park his car to have a feel of the meal.
He took off his blazers and ordered for the bread and some pieces of beans cake which he mixed together and sat along the road side to enjoy himself.
In his words, "Don't take life too serious, people sleep and die, dealing with this bread and akara while they wash my car."