Nigerians Are Wrong To Dismiss Dr. Awuor As A Fake Preacher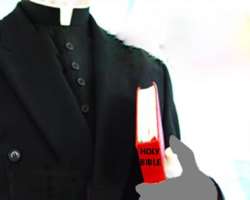 All virtual media are awash with derogatory stories about how Dr. David Awuor, the Kenyan born prophet failed to perform healing miracles to the handicapped and physically impaired Nigerians. An experience redolent of a plot in Irvine Wallace's the Miracle, in which the apparition of Mary the mother of Jesus was expected in the grotto on the outskirts of Paris.
It never happened, a situation that made most of Parisians to condemn the society of spiritual leadership in the Catholic Church. Comparatively, it is narrated on the Nigerian website, Thisday.com that David Awuor, who was invited to Nigeria by his religious friend Israel N. Israel, was expected to execute a healing miracle to the paltry community of cripples and sight impaired persons ferried from their respective institutions for the purpose.
To the disgusting experience of anxious Nigerians, David Awuor did not perform any miracle apart from condemning the Nigerian church leaders to stop the cult of money worship. Even the boy that was accidentally injured by a falling object was not miraculously healed by Dr. David Awuor. These were the eventualities that made Nigerians to go scornful and condemn Dr. Awuor to the station of a fake preacher from Kenya. How thoughtless are these Nigerian brothers.
Why Nigerians expected selfish gains from the Kenyan prophet is question that challenges ethics of Christianity, only to get a counter-logic in Shakespearean aphorism that the tempter and the tempted who is a sinner? In this particular situation, Nigerians remain bigger sinners as they were overtly gullible and hence intensely tempted into rapacity for physical glorification from a fellow human being from Kenya.
The Bible clearly points out that 'the miracles were until john the Baptist'. With Nigerian excellence in literacy it is expected that their communities must be aware of such Biblical textualities and hence be currently living above whimsical fantancies that make them to be cheaply trapped by such selfish behaviors making them to blame their visitors when harvest is not forth-coming.
Even Jesus never went to institutions of the lame and the blind to perform miraculously healings. He only performed miracles as a déjà vu; A sudden and instantaneous change in physical experience that come about without individual or institutional designs or what can be described as a peculiar case and experience of sublimation. Thus all technical and philosophical assessment of the collective psychology of the Nigerians in this juncture points out to a premise that it was so paradoxical to a Christian civilization for Nigerians to bring a crowd of lame and blind people, some of them don't believe in Christian faith, to be healed through a Christian miracle.
I mean Christian miracles cannot be easily performed in an environment of Rosicrucian animism. This was serious temptation to God. The same way it is narrated in the Biblical literature that Jesus was tempted by devilish feelings to convert a stone into bread, jump down from the pinnacle of the church, or worship the devil and accumulate earthly ownership.
If at all Dr. David Awuor had promised the Nigerians any healing then it must have been perceived as a healing from rapacity, hypocrisy, pretense, hunger for riches, crude culture, tribal hatred, cheap competition, existential nothingness and despair, But not selfish desire for recovery from physical deformities.
Going by facts and logic of modern religion, Dr. David Awuor was very right to caution the Nigerian fraternity from using the church as a means of making money. This was a classical message not only to Nigerian Christians, but to the global Christian community.
It is fact that should not be clouded by a usual foolishness pertinent in the happiness of the failures on seeing a great man approaching the precipice. It is love of money that makes the modern church to be blind on political corruption, gender prejudice, abuse of the rights of those that don't own and also put on blinkers to the open sore of the world society; poverty and social exclusion.
Alexander Opicho
(From Lodwar, Kenya)
Disclaimer:

"The views/contents expressed in this article are the sole responsibility of the author(s) and do not necessarily reflect those of The Nigerian Voice. The Nigerian Voice will not be responsible or liable for any inaccurate or incorrect statements contained in this article."
Articles by Alexander Opicho