Insurgence: North East Communities Plan Solidarity March To Honour Nigerian Army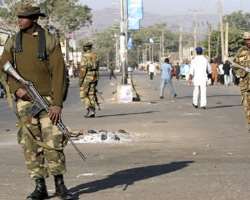 As a mark of solidarity for the success recorded by Nigerian troops fighting insurgency in the North Eastern part of the country, members of communities liberated from the Boko Haram militia under the auspices of North East Coalition Against Terrorism (NECAT) have concluded plans to hold a solidarity march in support of the military.
This was made known by the National Co-ordinator of the group, Yusuf Mshelizza in a letter to President Muhammadu Buhari and copied to the Chief of Army Staff.
According to him the solidarity the march is in honour of the government's effort in eradicating insurgency and to openly appreciate the Nigerian Army for their zeal to salvage the North Eastern States.
"We will forever appreciate the Nigerian Army, we lost almost everything including our homes, properties and lives due to the incessant killings and destruction of properties by Boko Haram insurgents in .the last few years.
Appreciating the Army's efforts, they further stated that at a point it became difficult to believe that terrorism could be wiped out of the region within the next two decades, however according to them the administration has brought hope not only to the North Eastern region, but the entire country.
"Sir, we stand to applaud your administration's success in eradicating Boko Haram terrorist in our land. It may interest His Excellency to note that, as it stands today, normal activities have returned to the North East region, government at the state level is now talking of rehabilitation of victims instead of the previous call to fight insurgency, a good testimony that the war against Boko Haram has been won".
NECAT has also lauded the Chief of Army Staff,General Tukur Buratai for refusing to tow the part of his predecessors who instead of fighting the terrorism were busy enriching themselves to the detriment of the Nigerians.
"We unanimously thank the Chief of Army Staff, our own son Gen. Buratai who refused to tow the part of his predecessors who instead of fighting the terrorists were busy enriching themselves to the detriment of our people.
"His effort must be rewarded by the Almighty God,who gave him the strength, knowledge and wisdom in fighting and defeating Boko Haram insurgency and His Excellency, President Muhammadu Buhari who appointed the Gen. Buratai as the Chief of Army Staff and in fact all the commanders".