FG to build database on migration for effective policy administration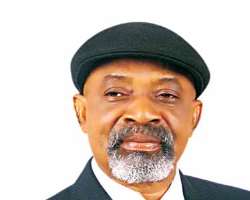 The Minister of Labour and Employment, Sen. Chris Ngige, on Monday said that the Federal Government would soon develop a migration-related database for effective policy administration.
Ngige said this while addressing a team of experts from the International Centre for Migration Policy Development (ICMPD) in Abuja.
He said that the database was being developed in partnership with the ICMPD.
The ICMPD, an inter-governmental organisation that provides government partners with in-depth knowledge and expertise for dealing with migration.
It does this by using a three-pillar approach of research, capacity building and migration dialogue.
Ngige said that the database would contain, among other things, up-to-date evidence and information about labour market needs and migrant workers' profiles, including their origin, citizenship, age and sex composition.
He said other features of the database would include education and skills, qualification and labour force participation of such migrant population.
"Conditions of work and extent of integration are necessary for effective labour administration, policy implementation, impact assessment, monitoring and evaluation. Most of the needed information are lacking in Nigeria,.''
Ngige said that the ministry sought the partnership in order to commence the process of bridging the observed data gap through the results of a natural survey on labour migration.
According to the minister, the ICMPD has agreed to support Nigeria with the development of the survey instrument on labour migration.
"We want to do our thing in consonance with emphasis on the mantra of the President Muhammadu Buhari-led administration to create jobs for Nigerians.
"We need support of people who have the desire to migrate their expertise to other countries where they are needed, so that we do not have overcrowded labour force.
"If we have migrants, we feel it is necessary for it to be in line with international best practices so that our skilled people going out of the country do not become a sort of embarrassment to their host countries.
"So, we want them to be regarded as legal residents and accorded all rights for decent job in conformity with ILO convention."
The minister commended the European Union Commission and other international bodies for their support.
Earlier, the Project Manager, of the centre, Mr Naozad Hodiwala, said the team of experts are in Nigeria following the Federal Government's request for technical assistance on migration management.
Hodiwala noted that challenges faced by countries with regard to migration policy, centred on labour migration and migrant data.
"Our assistance to the Ministry of Labour and Employment is to do a sort of survey on the existing data from the ministry."
He assured the ministry that the centre was ready to offer the necessary assistance.
established in 1993, the centre has over 50 member-states as partners and had received over 110 requests globally to provide technical support on migration management.