Kanye West first bought his phone to pursue a married Kim Kardashian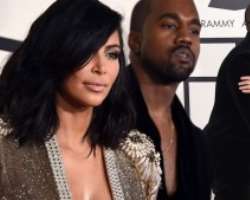 Yikes, Kanye West has admitted that he was pretty late to the mobile phone party a few years back and it turns out he only bought his one so that he could pursue a then-married Kim Kardashian.
Well, at least his plan worked, eh?
Yeezy spilled the beans on the latest episode of Kocktails With Khloe, with the rapper claiming that he didn't buy a phone until 2011, when he discovered that Kim was engaged to basketball player Kris Humphries.
Speaking to Kim's sister Khloe Kardashian, Kanye explained: "I got a phone because somebody decided they wanted to marry Kris Humphries.
"I wasn't up to anything, and I looked on the internet, and there was Kim Kardashian with some extremely tall person, and I was like, 'I need to call her or something'.
"I started sending her pictures of certain basketball players that used to be cool, that now they wear their pants all the way up to here. Like, 'This is your future!'"
Kanye's pal John Legend then added that Kim was the only number that the star had saved on his phone.
Thankfully, we guess, Kim's marriage to Kris famously only lasted for 72 days and Kanye got his wish as she started dating him in 2012 before they got married in 2014, welcoming two children together.
And it sounds like having kids can be a bit traumatic for the stars too, with Kim revealing that two-year-old North destroyed all of Kanye's 'Life Of Pablo' demos after he saved them only on his phone.
She explained: "Kanye had every single rap in his iPhone before he started really working on Pablo and then North flushed it down the toilet. They could not be retrieved — we sent it to, like, four places.
"He didn't even get mad. I would have at least screamed, cried."
We have to admit, fatherhood really does give us a whole new perspective on Mr. West…