Lovely Beverly Naya Exposes Her Oranges (photo)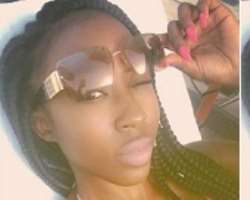 Not all celebs like revealing their tattoos as some even have them in very delicate places in their body and Nollywood actress, Beverly Naya, is not an exception to that.
Some Nigerian female celebs have it written on their oranges, cleavages, backside and centre of the baby factory but the common ones are those written either on the legs or hand.
Beverly showed off her sexy tattoo which is boldly written beside her oranges while having a good time at the beach and seriously, she does not care about people's opinion.